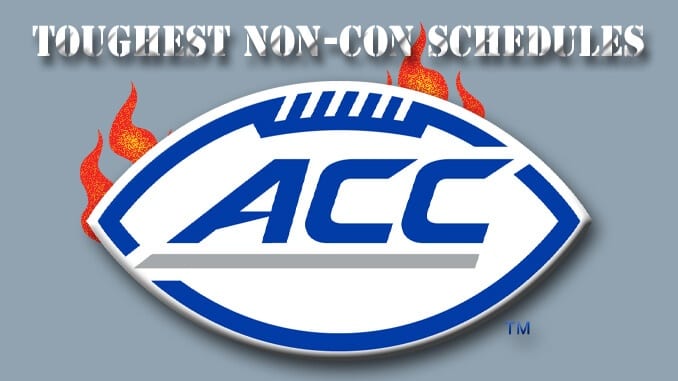 Toughest Non-Conference Schedules?
The higher up's at the ACC had a dream. Start cajoling, pushing and even shoving conference teams away from schedules full of cupcakes. It has been a slow and almost torturous journey to achieve that goal.
You have to go back to 2003 to fully understand just how far the conference has come. At that point in time the ACC and Big East were peers. When it came to football the conversation revolved around the SEC, Big 12, Pac 12 and Big Ten. All six of those conferences held automatic bids in what was then called the Bowl Championship Series. John Swofford, who had taken over as the conference commissioner after Gene Corrigan stepped down in 1997 began to see a shift in college sports. He knew as did the ACC Council of Presidents that it was rapidly becoming survival of the fittest.
The ACC knew that the conference had to grow and defend it's territory. The Big East ended up taking the brunt of the shakeup as three schools, Boston College, Virginia Tech and Miami all headed to the ACC. Growth was still on the table as Maryland split for the Big Ten and the ACC added Louisville.
Could there be more expansion for the conference? Might teams decide to go elsewhere? The first question isn't off the table but maybe not as likely. The second question is answered simply and emphatically, no. The reason is a grant of rights from their television deal and shared income that essentially locks schools into the conference until the 2035-2036 school year.
---
Toughest Non-Conference Schedules?
---
Has the ACC succeeded in it's commitment to build itself into a true Power 5 conference in football? One of the best gauges may come in a recent article by ESPN's Chris Low entitled, "College football's toughest nonconference schedules". Sure, it's just one article but one can clearly take away from it that the ACC is no longer anyone's "little brother".
Out of the ten teams making the list, five are from the ACC. The Pac 12, which has been in a rebuild mode has four teams on the list and the Big 12 rounds out the list. One has to ask, where is the SEC and the Big Ten? It has often been the subject of snarky remarks on ACC Nation Podcast about the cupcake nature of the SEC schedule. Let's be straight forward here. When your tide rolls unencumbered through towns without flood walls. The likelihood of fresher players with fewer injuries later in the season is higher than teams who are battling it out weekly.
Who are these ACC teams and how do they rank?
Pitt  #1 

Florida State  #3

Clemson  #4

Georgia Tech  #5

Louisville #9
---
Toughest Non-Conference Schedules?
---
The guys from ACC Nation Podcast, who are never shy about sharing their opinions added some thoughts.
Xayveon – So, when it comes to the ACC and their out of conference scheduling I can't help but give them 5 stars. I'll toss in an amazing Yelp review on how they're tackling the situation. I mean, out of the top 10 teams with the hardest non-conference schedules there isn't a single SEC team listed. Meanwhile, the ACC has 5, Pac-12, 4 and Big 12, 1.
For me personally, this shows a legitimate attempt at trying to beef up your schedule so that come playoff time, there is no question as to who played the tougher opponents throughout the year. I'm looking directly at you SEC….
Will – I like that the ACC is mandating one Power 5 school in the non-conference but I would still prefer to ban FCS scheduling, too. In 95% of the cases those games basically pad stats for the players. Frankly, nobody really gets anything out of it.
I feel it's best to schedule as close to your level as possible. That was the biggest criticism Virginia had for a number of years when they would go up against the likes of USC, BYU, TCU, etc. They were in way over their heads in most of those games.
I don't think this year's non-conference schedule is going to do Pitt any favors. They have Penn State and UCF who are considered preseason Top 10-20 teams. They will be heavy underdogs in those games.
Jim – I've never been a fan of scheduling what appeared to be obvious wins (cupcakes). Unlike Will, I'm not as adverse to scheduling FCS teams especially those that are ranked in the Top 10 nationally. Most of those teams provide good competition and have strong fan bases. I'll take James Madison as an example. Prior to hitting their stride they defeated Virginia Tech. When you have that level of competition close by (driving distance to Virginia, Virginia Tech, Wake Forest, North Carolina, Duke and NC State) why not add them? Plus, their fans travel.
I'm with Xayveon when it comes to the SEC and their eyebrow raising schedules. Part of the problem there has been the rest of the conference has been on a downward skid the past few years. Alabama has sliced up the SEC like a hot knife through butter. With the re-emergence of Georgia, Auburn, LSU and others to come, that won't be the case in the future. Parity will return. Will it in their non-conference scheduling?
It speaks volumes that Pitt, Georgia Tech and Louisville are on this list. Those programs, especially the Panthers aren't as far along as Florida State and Clemson. The teams I want to see on this list in a year or two are Virginia Tech, Miami and NC State based upon their growth. Will the entire list of ACC teams be on there in the future. Doubtful.