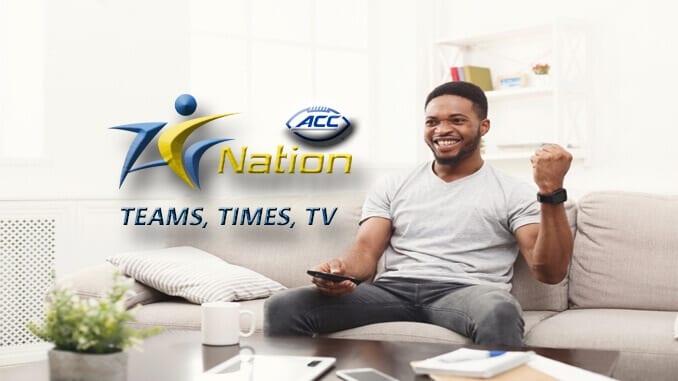 Looking for this week's teams, times and tv schedule? Look no further. It's week 7 and just yesterday, it seemed like college football couldn't get here quick enough.
After hitting the mid-point of the ACC Nation football season there are some who are just as equally ready to hang up the cleats and hit the hardwood.
Patience, dear fan. There are still some interesting games and certainly surprises awaiting us in this ever fickle world.
Where does your team stand in the ACC Nation Power Poll and how do they fair in this week's Picks?
Teams, Times, TV
Saturday, October 13
Duke @ Georgia Tech  12:20pm ET  Raycom
Louisville @ Boston College  12:30pm ET  RSN
Pitt @ Notre Dame  2:30pm ET  NBC
Miami @ Virginia  7:00pm ET  ESPN2
Virginia Tech @ North Carolina  7:00pm ET  ESPNU
Teams, Times, TV – ACC Nation Must Watch Games
If you like football there's never a bad game on a schedule, just one that isn't as exciting as you'd like it to be. With that in mind we're looking forward to the following games because we think they'll measure up.
Cast aside the wishy washy nature of these two teams for just a moment. Yes, fans have had their level of expectations raised only to be dashed against a rocky shore. But, you must admit that both Paul Johnson and David Cutcliffe have worked wonders with often very little. This casts Georgia Tech and Duke into the role of underdog and when they succeed, even if you don't like the teams, you cheer (often begrudgingly) for them.
Both the Yellow Jackets and Blue Devils are (once again) battered and bruised this season. Some of their potential tossed out the window along the way. However, the teams are beginning to heal and re-emerge among the ACC football landscape. One of these teams is about to spark our awareness of their presence and this game is where it all happens.
Perfect Weather
The other game under the umbrella of ACC Nation that has raised more than an eyebrow's worth of curiosity is set for Scott Stadium. The first shock and awe that Virginia will deliver to the Canes is the reality of playing in a real college stadium. A word of warning to Miami fans in attendance, arrive really early. Parking is at a premium and you'll likely walk a few miles after you've found your spot. The process of getting into the stadium is a bit cumbersome as well. Be sure you Google their rules about what you can and cannot bring with you.
Now that we've gotten the minor details out of the way let's look at the football end of things. You can never discount home field advantage no matter who the opponent may be. The Cavaliers may not have all the pieces in place (yet) but they sure are moving in the right direction. As for the Canes, they may be a few steps ahead of Virginia but they still have some glaring weak spots. If the home crowd actually shows up this has the potential to be an uphill climb for Miami. There are enough, 'what if's' in this game to make it out second must watch game of the weekend.