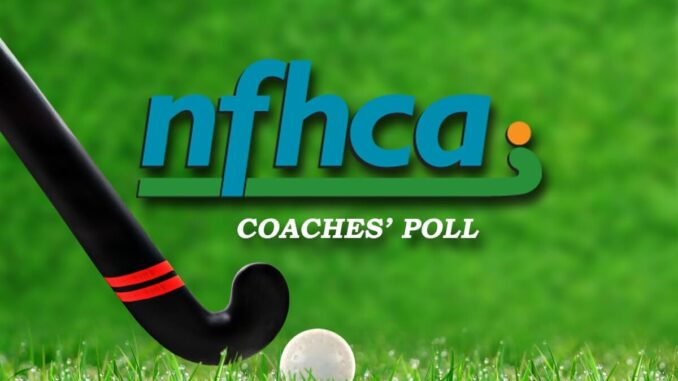 ACC Nation Staff @accnation –
A strong seven team lineup out of the ACC continues their dominant run in the NFHCA Top 25. Four teams own a spot among the top 10 with the other three in the top 20 of the latest rankings. North Carolina remains at the top pulling in 45 First Place Votes (FPV) while Duke sits at No. 2 with 6 FPV. This Friday, six ranked conference teams go head to head with non-conference games set for Sunday.
Top ranked North Carolina had a light schedule that featured a win over William & Mary, 8-0 heading into the current poll. The Tar Heels, the preseason favorites in the rankings, have steadily added to the list of voters confident in the team's performance. Beginning with the preseason poll (31 FPV), week one (37 FPV) to the current 45 votes, North Carolina has built a steady head of steam.
Duke remains steady at No. 2 this week pulling in 6 votes. The Blue Devils pulled in two wins since the last poll. The first, over California, 4-1 and then over Iowa, 2-1.
Moving up are Virginia and Louisville, each team adding a notch. The Cavaliers, who suffered a loss to Maryland, 3-2 came back to defeat Yale, 3-0. Even with the loss Virginia moved into the top 5.
Strong Seven
Louisville defeated UC Davis, 2-1 and Ohio State, 2-1 to move further into the top 10.
---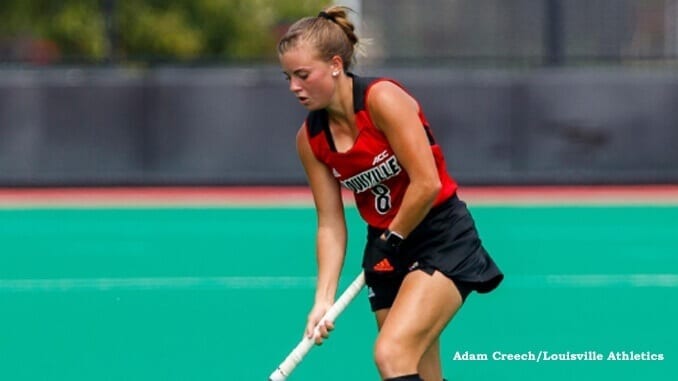 ---
Boston College and Syracuse claimed spots in the top 20 of the poll. The Eagles moved up two spots and the Orange are up four places.
---
Advertisement – How about a protein bar that actually tastes good? That's
Built Bar
!
---
Boston College defeated Dartmouth, 5-2 and Northeastern, 6-2.
Syracuse took wins over St. Joseph's, 2-1 and Bucknell, 3-1 to push them up in the poll.
Wake Forest took a three position plunge after a loss to Northwestern, 2-0.
---
NFHCA Top 25 – ACC
| | | | |
| --- | --- | --- | --- |
| RANK# | TEAM | FPV | LW# |
| 1 | NORTH CAROLINA | 45 | 1 |
| 2 | DUKE | 6 | 2 |
| 5 | VIRGINIA | | 6 |
| 7 | LOUISVILLE | | 8 |
| 17 | BOSTON COLLEGE | | 19 |
| 18 | WAKE FOREST | | 15 |
| 19 | SYRACUSE | | 23 |
---
Advertisement
---
ACC Schedule
Friday, September 20
#5 Virginia @ #19 Syracuse 4:30pm ET ACC Network
#7 Louisville @ #1 North Carolina 5:00pm ET ACCNX
#17 Boston College @ #18 Wake Forest 6:00pm ET ACCNX
---
Subscribe To ACC Nation Podcast – Listen To Sports News & Interviews
---
Sunday, September 22
Ohio @ #2 Duke 12:00pm ET ACCNX
#1 North Carolina @ Appalachian State 1:00pm ET
#19 Syracuse @ Colgate 1:00pm ET
#13 Liberty @ #18 Wake Forest 1:00pm ET
---