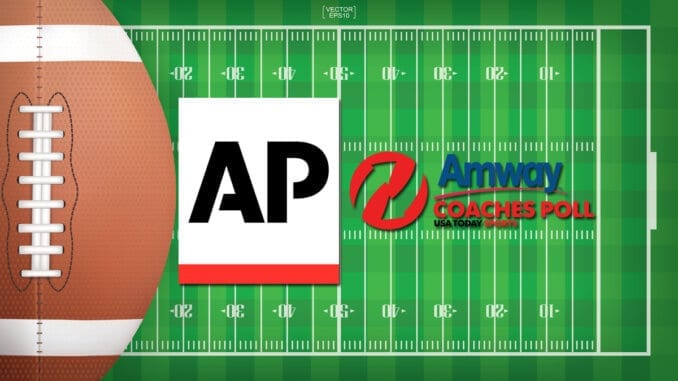 ACC Nation Staff @accnation –
After three weeks of ACC football some fans are beginning to feel a darkness surrounding their teams. Not so fast, oh Master/Mistress of Gloom and Doom. Sure, some of you have a right to be disappointed but let's get real here. Three weeks of football doesn't make for a season. We'd like to remind you of how Pitt began and ended their ACC run last year as an example. We're about to examine the AP Top 25 and USA Today Coaches' Poll. The up's and down's of teams in other conferences is a great way of shining a light on the fickle nature of college football.
The season (pre-season to be exact) began with two teams from the ACC. That number holds true in week 3. It's just that Virginia has taken over where Syracuse started in the polls.
After three weeks of play we also are beginning to see less activity among the Receiving Votes (RV) category for conference teams. Fear not, that is likely short term. As critical in conference games are played one or two teams will elevate themselves in the eyes of the voters.
Before we delve into ACC Nation teams and how they are ranked this week let's look at team that have dropped out of the polls. It's important to open your eyes to other conferences. ACC fans aren't the only ones holding their noses.
Shining A Light
In the USA Today Coaches' Poll No. 19 Michigan State, No. 23 Mississippi State, No. 24 USC and No. 25 Maryland all departed. For several of these teams they may have just experienced their 15 minutes of fame for the season.
---
Freshmen – Will's World Of Football
---
From a different vantage point the PAC 12, which has been sucking lemons for the past few years, delivered six ranked teams for the first time since 2015. Utah picked up their first No. 10 since 2015 this week as well.
The question remains, has the PAC 12 returned or are other conferences just having a down season? The answer always is somewhere in-between. Having more parity among the Power 5 conferences makes for better football.
---
ACC Nation Teams
| | | | |
| --- | --- | --- | --- |
| AP #  | TEAM | USA TODAY #  | TEAM |
| 1 | CLEMSON | 1 | CLEMSON |
| 7 | NOTRE DAME | 7 | NOTRE DAME |
| 21 | VIRGINIA | 22 | VIRGINIA |
| RV | | RV | |
| 31 | WAKE FOREST | 30 | WAKE FOREST |
| | | 40 | DUKE |
---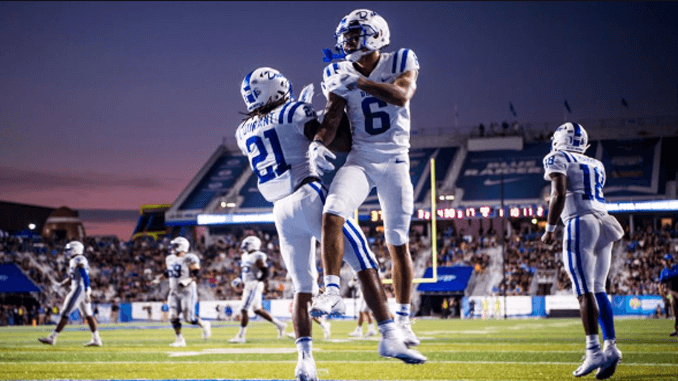 In case you were wondering there isn't anything new among the top 5 teams. There is a difference of opinion between the polls in regard to how LSU and Oklahoma stack up. At the top, Clemson remains No. 1 and is receiving 57 of 62 First Place Votes among AP participants.
#1 Clemson
#2 Alabama
#3 Georgia
#4 LSU (AP) Oklahoma (Coaches' Poll)
Switch the above for the fifth position.
---
On the schedule for ACC Nation teams, No. 7 Notre Dame faces off with No. 3 Georgia this weekend. It may be early but the reality is a win will go a long way toward grabbing a national championship playoff berth. A loss may hurt Notre Dame more. If Georgia loses and then stumbles against their SEC brethren over the coming weeks then a harsh light will be shining on the Bulldogs.
---