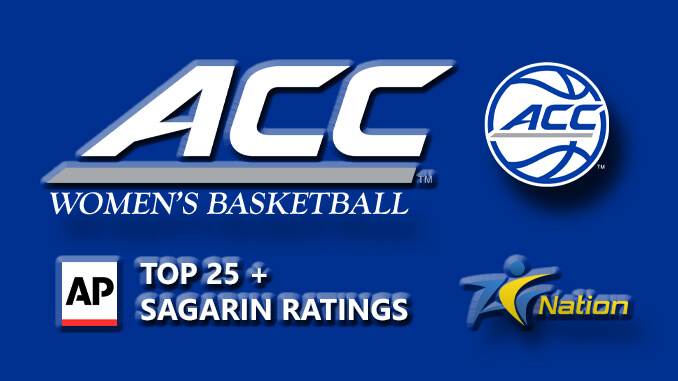 Notre Dame, Louisville Reign Over ACC
When it comes to top ranked women's basketball teams in the ACC the reign of Notre Dame has been short but powerful. The Irish have a long way to go to catch up to the dominance that former conference member Maryland established. The Terrapins notched 10 championships before departing.
North Carolina and Duke pretty much owned the conference from 2000 until the arrival of Notre Dame. Between the two Tobacco Road teams they have a combine 17 conference championships.
Since 2014 it's been an Irish game in the ACC with Notre Dame picking up 4 championships.
Tucked in neatly just behind Notre Dame in the AP Top 25 is Louisville. The Cardinals seem ideally positioned to challenge the current reign of the Irish.
Both teams are on a tear. Louisville has an 18-0 overall record while Notre Dame is 15-1 overall. The only loss for the Irish was to #1 UConn a game played in Hartford in early December.
Which of these two teams are ready to take the next step in defending their turf in the top 5?
On Thursday (January 11) #2 Notre Dame travels to #3 Louisville for their only regular season meeting. The game begins at 7:00p E and is available on ESPN or streaming on the ESPN App.
---
Notre Dame, Louisville Reign Over ACC
---
AP Top 25 Women's Basketball
#2     Notre Dame –

#3     Louisville –
#11   Florida State Up 2
#17   Duke 

Down 3

RV    Miami (#29)

          Syracuse (#31)
          Georgia Tech (#32)
          NC State (#33)
          Virginia Tech (#35)
Sagarin/CBN Ratings (01/10/18)
#5     Notre Dame

#7     Louisville
#12   Florida State
#22   Duke
#26   Virginia Tech
#34   NC State
#36   Georgia Tech
#41   Syracuse
#43   Miami
What team or teams are ready to break out from the RV category? Or might there be a sleeper in ACC women's basketball? Be sure to listen to the ACC Nation Podcast this week to hear more.