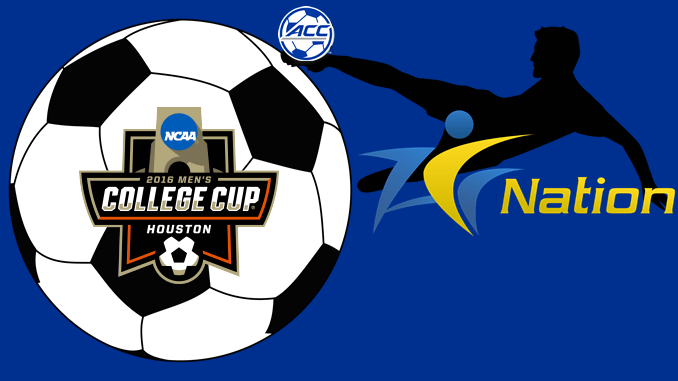 NCAA Men's Soccer College Cup
All ACC Championship Possible
NCAA Men's Soccer College Cup semifinal action lines up a possible All ACC Championship game.
Five teams from the conference made it into quarterfinal action with two advancing.
Wake Forest, a #2 seed, faced off against ACC opponent, un-seeded Virginia Tech and came away a 2-0 winner.
Louisville fell in the quarters to Stanford who will have another dose of the ACC in the semifinals. Final score, 2-0.
Clemson couldn't find the magic to get back to the final tilt this year and fell to Denver, 1-0.
North Carolina slipped by Providence, 1-0 and now the Tar Heels are in the semi's looking at a possible shot at the championship title.
Not so fast though on handing out trophies.
Friday, December 9, in NCAA Men's Soccer College Cup semifinal action, Wake Forest will face off against #6 seed Denver at 6:00p.
Later that evening, #9 seed North Carolina gets a shot at #5 Stanford at 8:45p.
Could there be an All ACC Championship?
It's possible. Wake Forest and North Carolina did not meet each other this season so it would make for an interesting title game.
First things first, though. North Carolina will be facing a very tough Stanford that has picked off ACC counterparts Virginia and a higher seeded Louisville. Will the third time be a charm or three strikes and you're out for Stanford?
Wake Forest will face Denver who has knocked off UNLV, Washington and took out higher seed Clemson.
Video highlights from Wake Forest and Virginia Tech