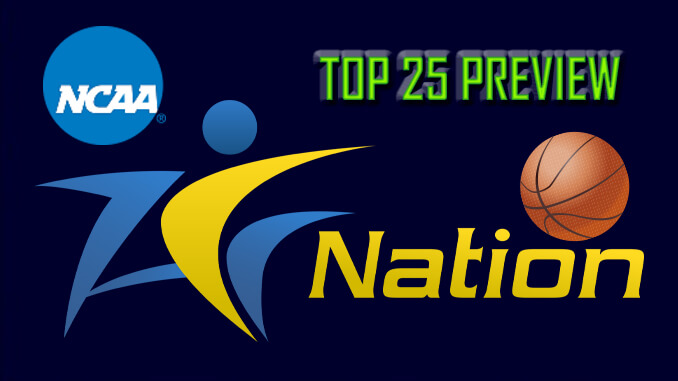 NCAA Basketball
A Quick Look At The Preseason AP Top 25 And What To Expect
Preview – Xayveon and Jim Quist
NCAA Basketball begins in full force tonight. It gave both Xayveon, "Mr. X' & O's" and myself an opportunity to chat up each of the teams on the preseason AP Top 25.
The top team in the rankings are the Duke Blue Devils and with good reason. Head coach Mike Krzyzewski has become a master of reloading after a one and done season.
In comes four, five-star recruits in Marvin Bagley, III, Trevon Duval, Wendell Carter and Gary Trenty, Jr. Xayveon points to Bagley, Duval and Carter as the early options for one and done. All three are possible lottery picks.
The big question on Xayveon's mind comes down to whether all this talent will mesh together well enough to make a deep NCAA tourney run.
---
NCAA Basketball – Chris Bond Looks At Boston College
---
Fitting snugly up against Duke at the second spot in the poll is Michigan State. The Spartans lucked out with Miles Bridges bypassing the NBA Draft in favor of a shot at a national title.
Here again we bring in a five-star recruit in Jaren Jackson, Jr. Paired with Bridges the two will give opponents a tough time in the front court.
Xayveon says that Jackson should make opposing teams fear Michigan State. His ability to be a more than solid rim protector along with a consistent 3 point game will take advantage of mismatches this season.
The third team on the list is a familiar name. Kansas sees the return of senior Devonte Graham who is a scoring machine. The Jayhawks are the team to beat this season in the Big 12.
Speaking of familiar names in college basketball where would we be without Kentucky?
John Calipari loads up another round of one and done talent that makes them worthy of the top 5.
Calipari has pulled in 6 five-star recruits. Xayveon notes that the front court features combo forwards in Kevin Know, P.J. Washington and Jarred Vanderbilt. All three of these players can finish at the basket on a break. They also feature solid mid-range games that will keep defenses honest.
One player that you'll want to keep an eye on is guard Hamidou Diallo. At 6'5″, Diallo has a vertical leap of 44.5 inches. That's just shy of 4 feet straight up. Think about it.
---
NCAA Basketball
---
Holding down the top five is Arizona who is favored to win the Pac 12. One of the big reasons is guard Allonzo Trier.
Unfortunately, Arizona is also embroiled in the college basketball scandal under investigation by the FBI. They've already lost an assistant coach and the issue of player eligibility continues to haunt all teams under this cloud.
When it comes to finishing in the paint against Arizona, Xayveon says, good luck. You'll be looking at five-star freshman DeAndre Ayton who is listed as a 7 footer. If the height doesn't get you, the 7'5″ wingspan and 9'3″ standing reach will go a long way in choking off access to the basket.
As for offense, Xayveon thinks you'll need a lot of luck as Ayton has some mid-range shots out of a pick and roll and is no slouch on the college 3 as well.
Villanova sees the return of Jalen Brunson at point guard where he is the team's only double digit scorer. The 6-3 senior will be the key for the Nova offense.
A surprise team in the Final Four last year, Florida returns substantial talent. Mike White brings back Gators' leading scorer KeVaughn Allen along with John Egbunu and Chris Chiozza.
All five starters return for Wichita State which makes them a very dangerous team. Landry Shamet rolls into his sophomore year with the intent of helping the Shockers run for the title.
Reigning national champions North Carolina have lost a great deal of depth. They've also lost the services of Joel Berry II for four weeks due to a broken hand. It may be a plus for Roy Williams that his team won't be in big games until January.
If for any reason you thought there might be a drop off in point production, Xayveon points to Pitt transfer Cameron Johnson. The addition of Johnson to the roster brings an average 11.9 ppg and the ability to hit critical 3's. North Carolina will need all the help they can get replacing three starters and five rotational players.
---
NCAA Basketball – ACC Nation Podcast
---
West Virginia head coach Bob Huggins may lay off the aggressive defense this year. The Mountaineers lack experience and depth to pull it off over long stretches of a game. No doubt that will evolve along with the season. In order to make a run against Kansas for the Big 12 title the Mountaineers will have to find their game before January.
The Trojans return Bennie Boatwright, Chimezie Metu and Jordan McLaughlin on a team that made it into the NCAA tournament. Though USC struggled a bit in conference play they showed enough flash to show promise this year. The school is under the FBI investigation like Arizona and have an assistant under indictment. So far, no players have been ruled ineligible.
Xayveon points to the return of all five starters that have the experience needed in clutch moments. There's also depth behind those players in McDonald's All American Charles O'Bannon, Jr. and Duke transfer, Derryck Thornton, Jr.
Miami returns two double digit scoring machines in Ja'Quan Newton and Bruce Brown, Jr. The Hurricanes have added five star recruit Lonnie Walker.
Xayveon points to Walker's addition and says it will create a three-headed monster for the Hurricanes in the back court.  Like Arizona and USC, Miami has a bit of a cloud hanging over the program as they've been mentioned in the FBI investigation.



---
NCAA Basketball
---
Cincinnati returns Jacob Evans, Kyle Washington and Gary Clark plus they've added transfer Cane Broome at guard. Broome brings solid scoring ability to the table for the Bearcats.
Notre Dame senior Bonzie Colson will be a key element to the success of the Irish this season. The senior averaged 17.8 ppg and 10.1 rebounds per game last season and is a strong candidate for ACC Player of the Year.
Minnesota brings back their top four leading scorers from last season. Nate Mason averaged 15.2 ppg and Amir Coffey has 12.2 ppg last year. The Golden Gophers are in line to see the NCAA Tournament once again. Xayveon calls them a dark horse to win the Big 10.
Many a shadow has been cast above the heads of Louisville basketball players this off season. One has been suspended, the Athletic Director relieved of duties and Rick Pitino is gone as a result of the FBI investigation of college basketball.
New head coach David Padgett has a boat load of talent to work. Can he steer that boat in the right direction?
Xavier returns Trevon Bluiett who is prepped for another big season. Last season he scored on average 18.5 ppg and had 5.7 rebounds per game. The Musketeers headed to the Sweet Sixteen last year and have a taste for a return.
Sometimes things just go very wrong and that's the case with UCLA as freshmen LiAngelo Ball, Cody Riley and Jalen Hill ended up on the wrong side of the law in China. The possibility of 3-10 years in jail for the alleged offenses could do more than keep them off the floor for the Bruins.
Xayveon says that new reports indicate the freshmen will likely serve a 20 day house arrest in China and be banished from the country. All this over Louis Vuitton sun glasses.
Where does UCLA go from here and are they still worthy of their preseason ranking?
---
NCAA Basketball – AP Preseason Top 25
---
Lots of talent has departed Gonzaga but there are two players that keep the Bulldogs in the mix. Johnathan Williams and Josh Perkins must step up this season and carry a larger load.
Williams started last season and had 10.2 ppg and 6.4 rebounds on average.
Perkins didn't always see a start but had a respectable 8.1 ppg and 3.1 assists coming off the bench.
Xayveon points to the addition of Rui Hachimura, a 6'8″ sophomore from Japan. Hachimura has a full year under the Zags coaching staff and just had a dominating performance at the FIBA U-19 Summer Games where he averaged 20.6 ppg and 11 rebounds per game.
Northwestern returns a significant portion of their roster with the top four scorers coming back. Bryant McIntosh and Scottie Lindsey add experience and depth to a team that saw their first NCAA Tournament action last year.
The Wildcats have enough to make it back and are worth keeping an eye on.
As defending Big Ten champions, the Boilermakers aren't getting much respect. With big man Caleb Swanigan moving on there is some question whether Purdue can make a run in the conference.
Two players that will make a dent are Vincent Edwards and Isaac Haas. Edwards delivered 12.5 ppg and 4.9 rebounds on average last season while the 7-2 Haas was in the same statistical boat with less floor time.
---
NCAA Basketball
---
The West Coast Conference sports two solid Top 25 teams and St. Mary's is one of them. This might be their season to lock up a conference title. With the return of 6-11 center, Jock Landale who averaged 16.9 ppg and 9.5 rebounds, the Gaels have the right type of experience to build around.
Speaking of big men, Angel Delgado may be the best center in college hoops. Last season Delgado racked up 15.2 ppg and had a nation leading 13.1 rebounds per game. Seton Hall will pair him up with Khadeem Carrington who is capable of going on a tear offensively. The Pirates also return four players averaging double digits offensively.
Baylor returns fifth year senior Manu Lecomte who averaged 12.2 ppg. The big question for the Bears comes in the form of experience and depth. They'll need key pivotal players to work with Lecomte in buttoning up opponents.
Alabama added five star recruits John Petty and Collin Sexton to work with leading scorer, Braxton Key.
Head Coach Avery Johnson has been on the way to building a solid Crimson Tide program. Then, he received a double punch when Sexton was ruled ineligible due to the FBI investigation and Key will undergo surgery that will keep him out for a while.
That's a look at NCAA Basketball's top teams and the players that are the fuel for the fire.
Keep up with Xayveon and Jim Quist on Twitter – @xayveon and @ACCTheQ