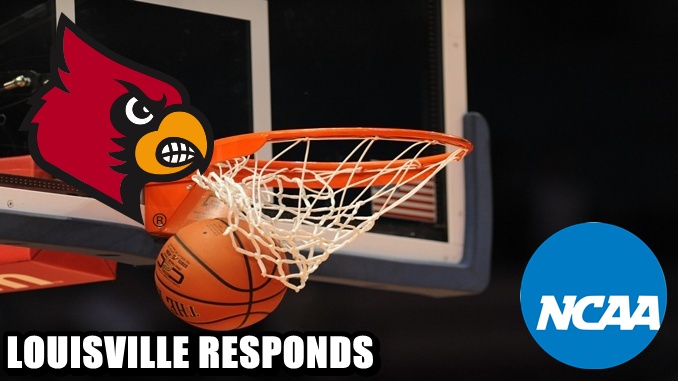 Louisville Responds
After the NCAA announced sanctions for the Louisville men's basketball program, the university released a statement from Interim President Dr. Greg Postel.  Following the statement we'll present highlights from a press conference. Now, the University of Louisville responds to the NCAA sanctions.
University of Louisville (Press Release) Today, we received the ruling from the National Collegiate Athletic Association's Committee on Infractions in the case involving improper activities that took place in Billy Minardi Hall several years ago.
The committee has accepted our self-imposed penalties and levied additional severe penalties that we believe are excessive.
The entire UofL community is saddened by what took place. It never should have happened, and that is why the school acted to severely penalize itself in 2016. Today, however, the NCAA Division I Committee on Infractions went beyond what we consider to be fair and reasonable. We intend to appeal all aspects of the penalties.
The person responsible for these activities, Andre McGee, long ago left the university, and he has yet to cooperate with investigating officials. We are disappointed that he was not cooperative.
---
NCAA Sanctions Louisville
---
In contrast, UofL did cooperate. We wanted the NCAA Enforcement Staff to uncover what happened. We have been open and transparent throughout this process.
The NCAA knew how seriously the university treated this matter from the beginning. Once we had the facts and recognized what took place, we did the right thing by taking responsibility and imposing severe penalties on ourselves. We believe the penalties imposed today are unfair to the UofL community and our current and former student-athletes, many of whom have already paid a heavy price for actions that did not involve them. This ruling is also unfair to Coach Pitino, who we believe could not have known about the illicit activities.
This has been a very difficult period for UofL. I am confident that what happened here will never happen again. We have changed our recruitment procedures, imposed additional protections in the dorms and the staff has received additional training. It saddens me that these events took place. Nevertheless, the Committee on Infractions has gone too far and taken actions that are unwarranted. We will appeal.
---
Press Conference Highlights – Louisville Responds
---
We've selected what we feel are the key highlights from the press conference but encourage you to take a look at the entire text here.
Participants in this press conference. Dr. Greg Postel is the interim President of the University of Louisville. Chuck Smrt is the President of The Compliance Group. Smrt was with the NCAA Enforcement Staff for 17 years. Rick Pitino is the men's basketball coach at Louisville. Tom Jurich is Vice President and Director of Athletics at Louisville.
Postel – "We anticipated the possibility that there would be additional penalties. However, the results that we received today outline a set of penalties that we consider excessive and beyond what would be seen, in our opinion, in a case such as this."
Postel – "There has been a heavy toll on the community, our fans, and on players whoplayed no part in the activities which took place. And so it is our intent to appeal the penalties."
Smrt – "One of those penalties is the vacation of records. We are still working through that but at this time we believe it could impact 108 regular season games and approximately 15 NCAA wins."
Smrt – "The process is that you appeal each specific penalty so as we sit here today, we intend to appeal those penalties that committee has imposed other than one self‐imposed obviously by the institution."
---
Subscribe To ACC Nation Podcast
---
Pitino – "For 35 some odd years, I have had faith in the NCAA. I have reacted that way as a head basketball coach in a belief in their rules."
Pitino – I feel like everybody here, not only is it unjust, unfair and over the top
severe but I personally I have lost a lot of faith in the NCAA and everything I have stood for in the last 35 years with what they just did."
Pitino – "We sat down and made some very tough decisions a year ago in
imposing those penalties and it did hurt our program. And none us do not feel extreme remorse, regretting everything that went on inside that dormitory. We have said that many, many times. But this is over the top. It is to the point where it is not even conceivable what I just read. It is not even conceivable or even believable. So we just have to put all our trust and faith that the appeals will do the right things in arguing our case."
Smrt – "The institution has about two weeks, 15 days, to notify the NCAA of an appeal. The University then has 30 days to prepare a response, the Committee on Infractions has 30 days to respond, the institution has another 15
days to respond, and then a hearing date is scheduled. So, we're looking at three months in back and forth with materials and then a hearing date is scheduled."
---
What's Next? Louisville Responds
---
Smrt – "Vacation, by itself, does not necessarily require forfeiture of funds. There is one of the penalties, as you have read, that says the University is supposed to return certain funds received from the conference. At this
point, we're still trying to figure out what the impact of that would be."
Jurich – "Well, obviously I'm disappointed. You know how important this program is to me and this university is to me, but I didn't see this coming to be perfectly candid with you. I thought we did everything above and beyond
when we found out about this incident. I think my greatest disappointment is with the organization itself, because we followed their guidelines to a T – even exceeded them in most positions."
Smrt – "The NCAA process is, you appeal to the Infractions Committee and that would be the last step within the NCAA."
Pitino – "We all are responsible for the actions of our basketball team. Just like you delegate certain areas of recruiting and scouting, same thing is done, we are all responsible for the actions of our players."
Pitino – 

I plan on staying here winning 

multiple championships not just one. I plan on going to multiple Final Fours, not just one. And that is what leaders 

do, they lead the players they are coaching. They ask for forgiveness for what happened for what one of your 

employees did."