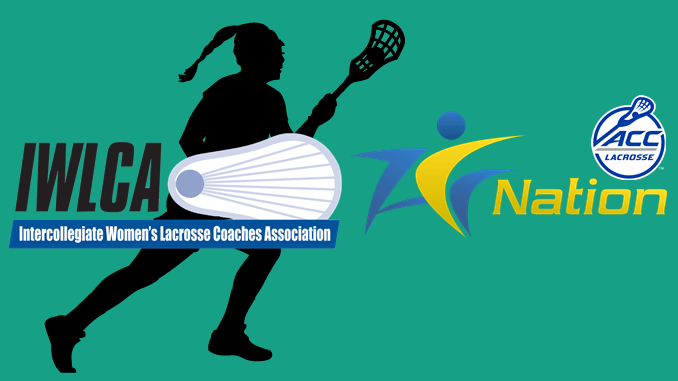 IWLCA Women's Lacrosse Top 20
The top echelon of the IWLCA Women's Lacrosse Top 20 poll holds steady this week.
Among ACC teams, North Carolina remains in the lead holding onto the slot right behind top ranked Maryland.
Syracuse took the biggest hit this week in the poll after falling to Notre Dame.
A three goal run after an illegal stick call took Syracuse's star attacker, Nicole Levy out of the game, put Notre Dame into the driver's seat. The Irish broke a three game losing streak with a 16-7 win.
Meanwhile, the Orange have lost three out of their last four games.
Virginia placed Duke in further danger of going winless in ACC play since 1997 delivering a crushing 18-5 loss. The Blue Devils could miss the NCAA Tournament for the first time since 1998.
The win pushed the Cavaliers back into the top 15 of this week's poll.
Virginia Tech faces off with North Carolina (Tuesday, 2:00p E, ACC Network Extra) in a game that the Hokies hope will vault them into the lead of the conference.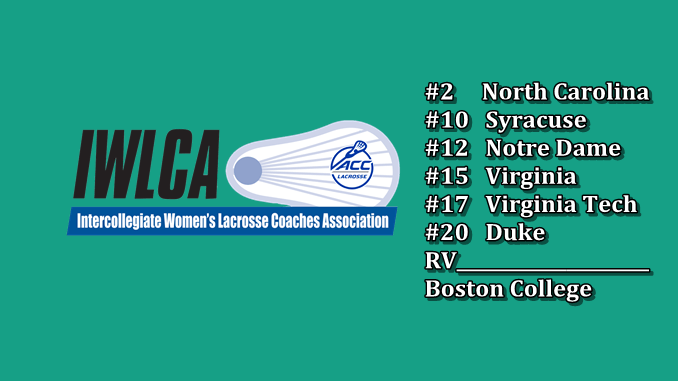 Boston College is in the receiving votes category this week along with Johns Hopkins.
---
The Rest Of The Game
---
The top five teams in the ACC standings (as of publication) are:
North Carolina
Virginia Tech
Notre Dame
Syracuse
Virginia
Each team is .500 or above when it comes to head to head conference play.
ACC Women's Lacrosse stats on the offense.
Hannah Koloski  Attack  4 goals avg/g
Jamie Lockwood  Ground Balls  3.14 avg/g
Sam Apuzzo  Assists  2.44 avg/g
Mary Claire Byrne  Turnovers Caused  2.50 avg/g
On the defensive side.
Brittany Read  Defending  11 saves avg/g
Meagh Graham  Goals Against  7.24 avg/g
There's some heavy lifting on the ACC Women's Lacrosse schedule.
Virginia Tech entertains North Carolina in a game slated for this afternoon.
Some highlight games later in the week include Virginia visiting Boston College, North Carolina fights it out with Notre Dame and Syracuse will visit Durham to take on the Blue Devils.