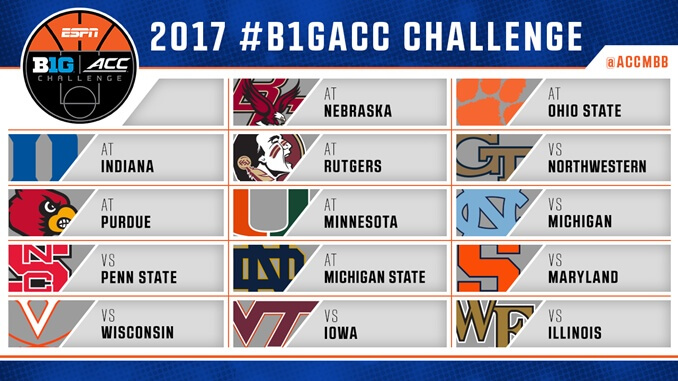 Big Ten ACC Challenge
Will Ojanen's Picks
The conferences have released the schedule for the Big Ten ACC Challenge in men's basketball this November.
Fourteen Big Ten schools will go head to head with the ACC as they battle for the Commissioner's Cup for the 19th year.
Seven of the teams are ranked in preseason polls, two from the Big Ten and five from the ACC.
The top ranked school in the mix, #3 Michigan State will face off with #21 Notre Dame.
Four first time match ups pit Maryland against Syracuse, Florida State battles Rutgers, Michigan has a date with North Carolina and Boston College meets Nebraska.
Fifteen of the total 28 teams competed in last season's NCAA Men's Basketball Championship.
---
The Teams
---
Boston College at Nebraska
Clemson at Ohio State
Duke at Indiana
Florida State at Rutgers
Northwestern at Georgia Tech
Louisville at Purdue
Miami at Minnesota
Michigan at North Carolina
Penn State at NC State
Notre Dame at Michigan State
Maryland at Syracuse
Wisconsin at Virginia
Iowa at Virginia Tech
Illinois at Wake Forest
---
Will's Picks
---
ACC Nation's Will Ojanen @WillsWorldMN, who resides the Greater Minneapolis area, is looking forward to the Miami-Minnesota.
Will didn't hesitate to offer up his picks for Big Ten ACC Challenge.
He has the ACC taking the challenge this year, 8 games to 6. Who did he pick as the winners? See if you agree.
Duke
Florida State
Louisville
North Carolina
NC State
Virginia
Virginia Tech
Wake Forest
---
---
The complete schedule, including dates, times and viewing availability will be announced at a later date.