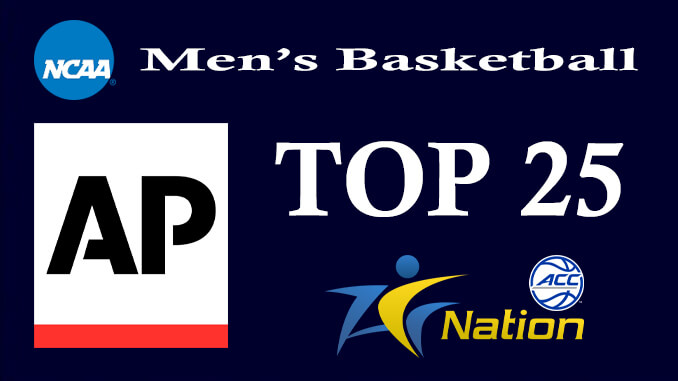 AP Men's Basketball Top 25
The opening weekend of NCAA Basketball shuffled the preseason numbers in week one of AP Men's Basketball Top 25.
The majority of ACC teams continue to carry water in the poll. Duke continues to ride the wave at the top of this week's Top 25. When it comes to first place votes, the Blue Devils have to share.
Duke is still far and away the voters top choice but three other teams also get a nod. Michigan State, Arizona and Kansas collectively garnered 31 votes compared to Duke's 34.
Typically, teams ranked early in the season swap positions frequently. Comparing the preseason rankings to week one you'll find a lot of significant adjustments among teams. It may take up to a month before rankings begin to exhibit some consistency. That will be just in time for holiday tournaments where upsets lurk. The regular season lurks thereafter and the shakeup begins all over again.
---
AP Men's Basketball Top 25 – The ACC
---
#1     Duke
#9     North Carolina
#11    Miami
#13    Notre Dame
#18    Louisville
Duke and North Carolina hold firm in the top 10 this week. Miami moves up two spots from their initial ranking of #13 and Notre Dame slides into #13 from their preseason #14. Louisville was the sole ACC team seeing a slip in the poll going from #16 to #18.
---
AP Men's Basketball Top 25 
---
Chris Bond thinks there's a team that you should be watching closely this season. Read his take on Boston College and how this might be the year that Jim Christian's Eagles make a statement.
Xayveon and Jim Quist broke down each of the preseason Top 25 teams in NCAA Basketball. It's a good place to start to keep up with who's who this season.
With basketball season firing up you'll want to subscribe to the ACC Nation Podcast. Get the weekly episode plus special "short-casts" throughout the season.