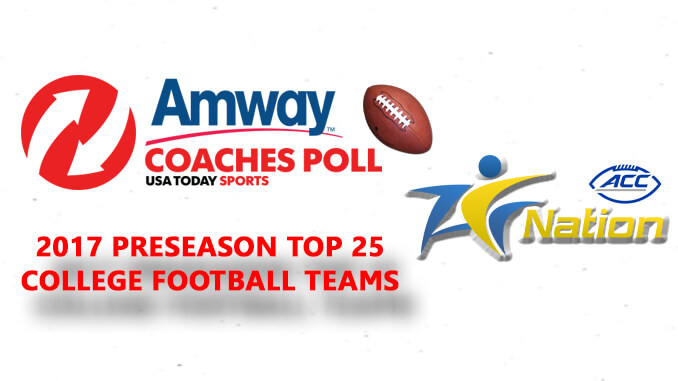 Amway Coaches Poll
The 2017 Preseason Top 25 College Football Teams are all nicely laid out in week one of the Amway Coaches Poll. The top dog each year has not appeared to have changed in the eyes of other coaches. Nick Saban's peers all tip their hat to his work at Alabama, yet all hope to take his place early in the season.
Florida State's Jimbo Fisher will have his shot, many believe more than one time, at knocking off the Crimson Tide as the Seminoles open the season with the preseason favorite.
When it comes to Atlantic Coast Conference (ACC) teams, the Amway Coaches Poll places five teams among the preseason Top 25. Five more, plus Notre Dame, making it six, are in the Receiving Votes category. The teams and their projected place in the overall polling should not come as a surprise. If it does, consider that coaching staffs have a much better insight into potential than the vast majority of fans. The same holds true for a great deal of those in sports media.
---
Amway Coaches Poll – The ACC
---
The teams from the ACC include media favorite Florida State and reigning national champions, Clemson, holding spots in the top 5 of the poll. (Previews available for highlighted teams).
Now, let's take a closer look at the teams in the Receiving Votes category of the Amway Coaches Poll.
#30   Notre Dame
#32   Pitt
#33   NC State
#43   Georgia Tech
#48   North Carolina
#54  Syracuse
If you listen to the ACC Nation Podcast on a regular basis, you'll know that Chris Bond, Will Ojanen and Jim Quist have talked about the strength of Pitt and NC State. They've also pointed to Georgia Tech as a possible surprise team that could cause some problems this season.
The Irish, Panthers and Wolfpack all stand to move into the Top 25 with a strong start to their seasons. All three teams have more than a fair shot of penetrating the top 20 by mid-season if all goes well.
Two other teams are favored by the podcast hosts and should generate some early chatter. Wake Forest and Duke are primed to have much improved seasons.
The Demon Deacons' offense and defense continue to rise and fan expectations should follow suit.
The ACC season kicks off this month with the opening game on Thursday, August 31 as Wake Forest hosts Presbyterian. Coverage will be streaming on ACC Network Extra with game time, 6:30p E.