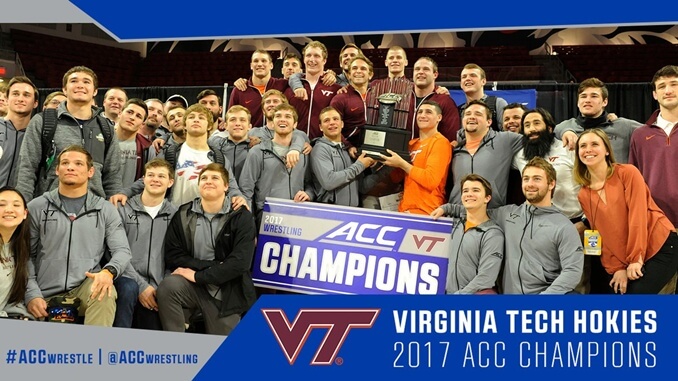 ACC Wrestling Championship
Virginia Tech has captured their third straight ACC Wrestling Championship, tying their own conference record previously set in 2013.
Six individual Hokie wrestlers won titles at the conference event held at NC State. That's the most for a single team in the championship since 1999.
It was also a good day for Pitt and NC State.
Pitt captured three individual titles in the 133, 157 and 165 weight classes.
NC State's Kevin Jack won the 141 weight class and was unanimously named the ACC Wrestling Championship MVP.
ACC Wrestling Championship Team Results
Virginia Tech, 93 points
NC State, 64 points
Pitt, 54 points
Virginia, 52.5 points
North Carolina, 44 points
Duke, 24.5 point
ACC Wrestling Championship Individual Results
125  Joey Dance, VT
133  Dom Forys, Pitt
141  Kevin Jack, NC State
149  Solomon Chishko, VT
157  Taleb Rahmani, Pitt
165  Te'Shan Campbell, Pitt
174  Zach Epperly, VT
184  Zack Zavatsky, VT
197  Jared Haught, VT
285  Ty Walz, VT
2017 All ACC Wrestling Team
125  Joey Dance, Sean Fausz
133  Dom Forys, Jamal Morris
141  Kevin Jack, George DiCamillo
149  Solomon Chishko, Troy Heilmann
157  Sal Mastriani, Taleb Rahmani
165  Te'Shan Campbell, Brian Hamann
174  Ethan Ramos, Zach Epperly
184  Zack Zavatsky, Michael Macchiavello
197  Jared Haugh, Danny Chaid
285  Ty Walz, Jacob Kasper
NCAA Wrestling Tournament
Next up for teams and individuals, the NCAA Tournament. The selections will be announced on Wednesday, March 8.
The tournament will be held in St. Louis at Scottrade Center, March 16-18.
Three ACC teams are among the most recent NWCA College Wrestling Rankings. The Hokies are #4, NC State #8 and Pitt is #23.
Individual ACC wrestlers earning automatic NCAA bids include:
125  Joey Dance, Sean Fausz, Jack Mueller
133  Dom Forys, Jamal Morris
141  Kevin Jack, George DiCamillo, Joey Ward
149  Solomon Chishko, Troy Heilmann, Sam Krivus
157  Sal Mastriani, Taleb Rahmani, Andrew Atkinson, Jake Faust
165  Te'Shan Campbell, Brian Hamann
174  Zach Epperly, Ethan Ramos, Connor Bass
184  Michael Macchiavello, Zack Zavatsky
197  Jared Haught, Danny Chaid
285  Ty Walz, Jacob Kasper, Ryan Solomon, Cory Daniel, Mike Kosoy