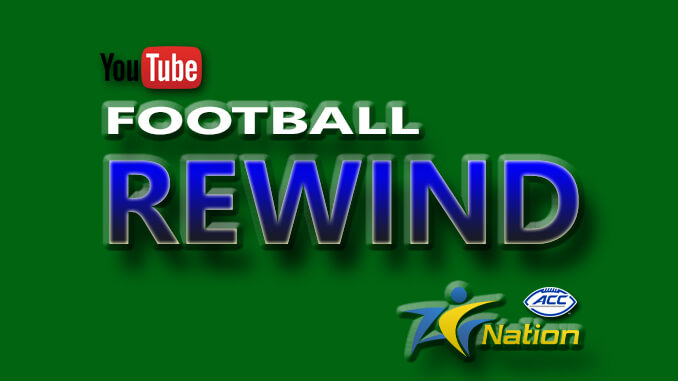 ACC Nation Rewind
ACC football completes week five and we have all of this weekend's match ups at ACC Nation Rewind. Once again, there were surprises in store.
Some performances didn't live up to expectations while others exceeded them.
If you missed this weekend's action, we have the highlights that will give you a good feel for how your team performed.
Be sure to subscribe to the ACC Nation Podcast and hear our take on how your team performed this week.
---
ACC Nation Rewind – The Tape Tells The Tale
---
This week's ACC Nation Rewind began with Miami travelling to Duke to take on the unbeaten Blue Devils.

North Carolina headed to Atlanta with hopes of picking up a win against Georgia Tech. Instead, it turned into an eye opener as the Tar Heels couldn't find their stride on any front against the Yellow Jackets.



Pitt hasn't had the best of starts this season so a much needed win would help salve the fans. Rice is just what the Doctor ordered to make the Panthers feel better.



A struggling Boston College found something to celebrate as they rolled over the Central Michigan Chippewas.

---
ACC Nation Rewind – AP Top 25
---
NC State picked up a win over Syracuse and learned an important lesson as well. Never, ever sleep on the Orange.

Louisville rolled to a big win over Murray State. The Cardinals, however, are still looking for answers to issues on the offensive line.

It may not have been the expected outcome for die hard fans of either team but the Seminoles and Demon Deacons put on a show.

Notre Dame wrapped up Miami(OH) and then sent them home with a bow.

In a highly anticipated game between Clemson and Virginia Tech, only one could go home a winner.

---
ACC Nation Rewind – ACC Nation Podcast
---