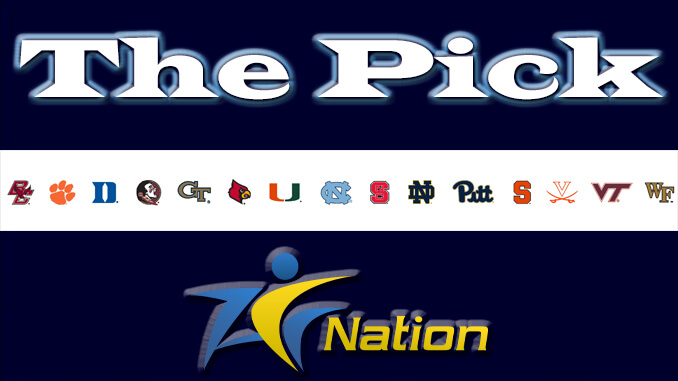 ACC Nation Football Picks
Welcome to The Pick. Here's where you'll find the weekly ACC Nation Football Picks for both conference teams and Notre Dame. For more in depth analysis on games subscribe to the ACC Nation Podcast.
At this juncture, you either have it or you don't. This continues to be a topsy-turvy season not only for the ACC but also other conferences.
A look at this week's ACC Nation Power Poll (link below) has Notre Dame nipping at Clemson as the top two teams. Last week's three way tie shuffled the top 5 teams around just a bit and that will continue this weekend.
The first week CFP rankings are out. Be sure to take a look at the selection committee's take on how teams are performing.
Here's a look at last week's picks and how each of the prognosticators performed.
---
ACC Nation Football Picks – Last Week
---
| | | | | |
| --- | --- | --- | --- | --- |
| GAME | WILL | CHRIS | XAYVEON | JIM |
| Florida State at Boston College | FSU | BC | BC | FSU |
| Miami at North Carolina | MIA | MIA | MIA | MIA |
| Louisville at Wake Forest | WF | LOU | LOU | WF |
| Virginia at Pitt | UVA | UVA | UVA | UVA |
| NC State at Notre Dame | ND | ND | NC ST | ND |
| Duke at Virginia Tech | VT | VT | VT | VT |
| Georgia Tech at Clemson | CLEM | CLEM | CLEM | CLEM |
---
ACC Nation Football Picks – Power Poll
---
The Pick win this week goes to Will, Chris and Jim with 5-2 records.
The overall record has Jim at 68-21, Chris at 67-22, Xayveon at 66-23 and Will at 65-24.
---
ACC Nation Football Picks -This Week
---
| | | | | |
| --- | --- | --- | --- | --- |
| GAME | WILL | CHRIS | XAYVEON | JIM |
| Syracuse at Florida State | FSU | FSU | SYR | SYR |
| Georgia Tech at Virginia | GT | UVA | GT | GT |
| Wake Forest at Notre Dame | ND | ND | ND | ND |
| Virginia Tech at Miami | VT | VT | MIA | VT |
| Clemson at NC State | CLEM | CLEM | CLEM | CLEM |
---
 ACC Nation Football Picks – Rewind
---
A much shorter schedule this week but it's certainly not limited when it comes to importance of the games.
The first game on the list has Syracuse traveling to the Sunshine State to get away from the onset of winter in upstate New York. The Seminoles have been involved in far too many 50-50 splits on this board this season. Will threatened to stop picking Florida State as a result of their recent performances. Apparently, he wasn't serious as both he and Chris pick the Seminoles to defeat the Orange.
Xayveon and Jim see if differently and ask, how could anyone be against an Orange in Florida?
Chris goes against the grain in picking Virginia over Georgia Tech. Memories of other wins by the Cavaliers at Scott Stadium when they weren't expected to may be dancing around in his head.
The guys are all in with Notre Dame this week as they face off with Wake Forest. Though everyone on the board likes the progress the Demon Deacons have shown this season, they aren't sold that it's enough to drop the Irish at home.
Xayveon has been a big fan of Miami since day one and likes the Hurricanes to take the win at home against the Hokies. The rest of guys still believe Virginia Tech is inappropriately the underdog in this head to head.
To wrap up the picks this week, all the guys are on board with Clemson bringing home the win. The Tigers will bring home the Atlantic Division title and head to the ACC Championship.



---
ACC Nation Football Picks – AP Top 25
---
Would You Like To Help? 
Editor's note: ACC Nation would like to encourage you to support the Red Cross with a $10 donation by texting 90999. You can find a full list of community partners who stand ready to assist at www.nvoad.org.
Be sure to provide much needed assistance to those impacted by recent disasters. Your family and friends across America need a helping hand.
You can donate or explore the many ways you can volunteer to help others.