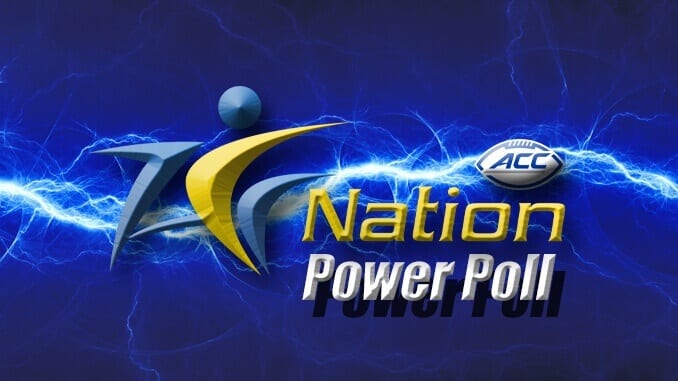 The best way to describe this week's ACC Nation Power Poll is to compare it to a middle-aged man who drinks a lot of beer. The top of the poll is losing some of it's muscle, the middle is beginning to bulge and the bottom is shuffling along. We think there's no better time to hit the gym.
Are there any major moves this week? Yes and it's up top where NC State has flexed their way into the top 4. The Wolfpack have slowly and steadily earned that spot. Is it possible they should have been there sooner? Only a die-hard fan would unequivocally say, yes. The questions surrounding this team will only be completely answered following their head-to-head with Clemson.
Speaking of the Tigers they've regained a bit of the confidence they lost in this poll. It appears as if the team is finding some wheels on the offensive side of the ball.
Notre Dame was the team sneaking up on Clemson. There is only a minor adjustment for the two teams this week. The Irish solidified in the minds of our group that they are definitely worthy of the playoffs. That thought is echoed by more than a few other organizations and individuals.
What teams have earned a bit more confidence?
NC State
Virginia
Florida State
Georgia Tech
Pitt
Don't get too carried away and try to read the tea leaves with this selection. A shift in the poll often means one or more teams have (or have not) moved in the rankings.
What teams appear to have lost some confidence?
Miami
Boston College
Duke
Syracuse
Wake Forest
Louisville
ACC Nation Power Poll
| RANK | TEAM | LAST WEEK |
| --- | --- | --- |
| #1 | CLEMSON | #1 |
| #2 | NOTRE DAME | #2 |
| #3 | NC STATE | #6 |
| #4 | MIAMI | #3 |
| #T5 | VIRGINIA TECH | #5 |
| #T5 | BOSTON COLLEGE | #4 |
| #7 | VIRGINIA | #9 |
| #8 | DUKE | #7 |
| #9 | FLORIDA STATE | #11 |
| #10 | SYRACUSE | #8 |
| #11 | GEORGIA TECH | #12 |
| #12 | WAKE FOREST | #10 |
| #13 | PITT | #T14 |
| #T14 | NORTH CAROLINA | #T14 |
| #T14 | LOUISVILLE | #13 |
The Point Spread (As In Voting)
Here we are at week 7 and you need to look in the mirror when you ask this question. Has my team improved since week 1? It's a sobering exercise for some of you.
The top 3 teams in the poll have definitely improved over the course of the season. There are varying degrees of forward progress from more than a handful of teams. Forget about what you thought a team was going to be as often that's not a realistic expectation. Try to be as objective as possible and put a check mark beside each team on this list that has in some way improved since week 1.
The next question is a follow-up to our Captain Obvious moment last week. Is the conference, as a whole, improving or do we need a re-boot?
For those of you saying we need a change in direction we'll remind you that basketball season is rapidly approaching.
What games are on the schedule this week that may impact the Power Poll?
Duke @ Georgia Tech
Miami @ Virginia