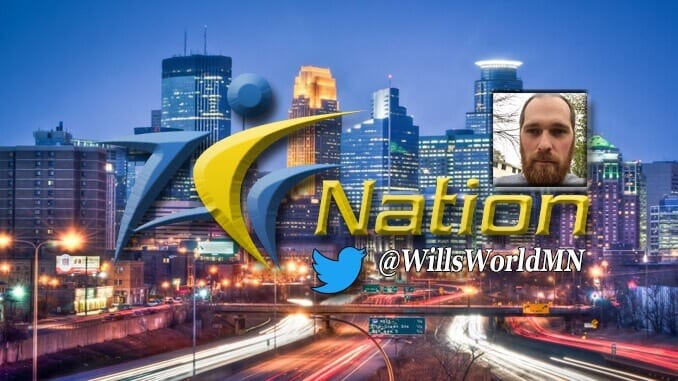 After seeing a tweet come up on Twitter about some of the worst college football games ever seen, a thought came to mind. What were some of the worst ACC football games in recent memory? Some of the games on this list are obvious, because of how bad they are. Others, well they may not have been had I not brought them back up. I went back through the 2011 season and compiled some of the worst games involving ACC football teams. I probably forgot some, so please forgive me.
November 5, 2011-NC State 13, North Carolina 0
Mike Glennon didn't have very many off games in his NC State career but this was one of them. He was 16-33 passing against the Tar Heels. North Carolina had just three yards rushing. That may be because Bryn Renner was sacked three times and lost 47 yards on those three sacks. The Tar Heels had just 165 yards of offense.

November 19, 2011-Miami 6, South Florida 3
Miami scored six points in a game? How could that be? Well, Jacory Harris started the game. Does it make sense now? The Hurricanes needed a field goal on the final play of the game to win.

November 26, 2011-Florida State 21, Florida 7
Don't let the score fool you. The Seminoles won despite piling up all of 95 yards of offense. They ran the ball 46 times for just 30 yards. Meanwhile, future NFL QB Jacoby Brissett went 4-13 for 27 yards for the Gators, while John Brantley threw three interceptions.

October 6, 2012-Maryland 19, Wake Forest 14
Remember when Maryland was in the ACC? It feels like it's been forever. This game featured a combined 23 first downs, seven fumbles, five turnovers and Tanner Price going 13-38 passing.
Worst ACC Football Games

December 28, 2012-Virginia Tech 13, Rutgers 10
The 2012 Russell Athletic Bowl will go down as one of the worst bowl games of all time. The Hokies won this game despite three yards rushing, fumbling five times and committing 14 penalties.
---
Carolinashoe.com Men's Steel Toe Boots
---

September 28, 2013-Pitt 14, Virginia 3
This is what happens when the quarterback matchup is Tom Savage vs. David Watford. Together they combined for 28-68 passing. Neither team reached 200 yards. Pitt had eight yards rushing in this win. There were also a combined five turnovers.
In Spite Of Yourself
October 26, 2013-Duke 13, Virginia Tech 10
What's most remembered about this game is that it gave Duke it's sixth win of the season. What else? For the first time since 1995 Duke became bowl eligibile and they won the Coastal Division title. The game itself featured a combined eight turnovers. Duke quarterback Anthony Boone completed just seven out of 25 passes and the Blue Devils amassed a paltry 198 yards of offense.
---
Are You Ready For Some Football?
---
October 25, 2014-Clemson 16, Syracuse 6
This game was the epitome of sloppiness. It featured a combined seven turnovers and seven fumbles, with three lost. Syracuse quarterback A.J. Long went 12-27 for 82 yards.
…And Then
November 22, 2014-Wake Forest 6, Virginia Tech 3 (OT)
You'll remember this game from the picture of Frank Beamer raising his arms in the air. Beamer was celebrating the fact that Wake Forest missed a game winning field goal in regulation thus keeping the game scoreless. I don't think I need say any more.
From Brutal…
October 3, 2015-Duke 9, Boston College 7
Some of the stats in this game are pretty brutal. Duke ran the ball 35 times for a grand total of 33 yards. Boston College starting quarterback Jeff Smith finished 3- 13 for 12 yards, before being benched for Troy Flutie.
…To Bizarre
October 10, 2015-Wake Forest 3, Boston College 0
This may go down as one of the worst ACC football games of all time. Despite winning the game, Wake Forest had just five first downs and 142 total yards. Without a doubt it featured one of the most bizarre endings of all time. Boston College is driving for the game winning touchdown only to fumble the ball near the goal line. That turnover gave the ball back to Wake Forest. The Deacs subsequently fumble it back to Boston College. The Eagles then get stuffed short of the goal line as time runs out.
---
---
October 30, 2015-Louisville 20, Wake Forest 19
This was before Lamar Jackson became the Heisman Trophy award winning athlete that we all knew. The Cardinals struggled to run in this game gaining just 68 yards on 42 carries. The Deacs fared no better gaining 40 yards on 32 carries. John Wolford and Kendall Hinton combined to go 9-30 and dishing up four interceptions.
…To Horrendous
November 8, 2015-Syracuse 20, Boston College 17
I belatedly included this game because of the horrendous passing. Boston College quarterback Jeff Smith was 1-13 and Zack Mahoney was 12-26. The Eagles only had nine first downs and committed 11 penalties.
---
ACC Football Bowl Lineup
---
September 1, 2016-Tulane 7, Wake Forest 3
The loss didn't hurt Wake Forest too much because the Deacs went to a bowl that season. The game didn't get off to a good start nor did it finish well as the Deacs managed just 175 yards of offense while punting eight times.
---
---
September 17, 2016-UConn 13, Virginia 10
This was one of those games that a team, in this case Virginia had no business losing. With 10 penalties and poor special teams play the Cavs were doomed. A potential game tying chip shot field goal missed as time expired.
Did That Game 'Blow'?
October 8, 2016-NC State 10, Notre Dame 3
In fairness, this game was played in the middle of a hurricane. As far as I'm concerned it probably shouldn't have even been played. But, what will always stand out in this game is why Brian Kelly thought it was a good idea to have DeShone Kizer throw 26 passes.
One More For The Road
November 26, 2016-Pitt 76, Syracuse 61
This one might be a bit controversial. There comes a point where it's overkill. Personally, I like to see a little bit of offense and defense. We saw plenty of offense but the score tells us about the lack of defense. These two teams combined for over 1300 yards of offense to go along with 137 points and 58 first downs.
Will Ojanen is a Columnist and the Co-Host of ACC Nation Podcast. He is a member of ACSMA (Atlantic Coast Sports Media Association). He and his wife, Sami explore the world of craft beer and write about their adventures at WillandSamisBeerBlog. You can follow Will on Twitter @WillsWorldMN.
---
Follow ACCNation.net on Twitter, Instagram and Facebook.