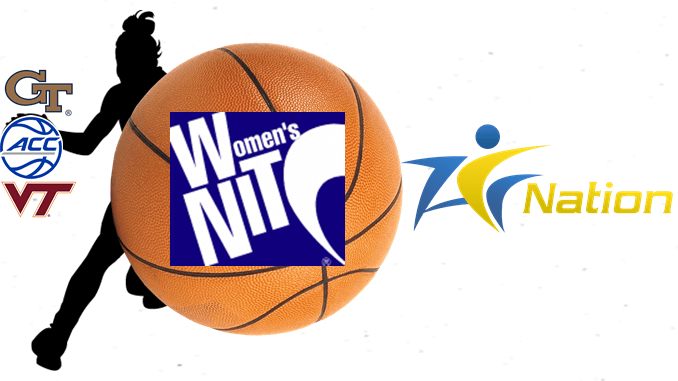 WNIT Quarterfinals
It's the tale of two Techs as both Virginia Tech and Georgia Tech head to the WNIT Quarterfinals.
The Hokies have peeled through Rider, Navy and in Round 3, Penn State.
After taking off on a 17-4 run in the second quarter, Virginia Tech was never challenged by the Nittany Lions.
Five players tallied double figures in scoring for the Hokies.
Virginia Tech's Chanette Hicks led with 13 points and six assists. Also on the boards,Vanessa Panousis and Samantha Hill notched 12 and Sidney Cook and Kendyl Brooks brought home 11 points to help deliver the win for the Hokies.
Virginia Tech hits the quarterfinals next against Michigan on Saturday, March 25 at 2:00p E.
The Yellow Jackets chilled Middle Tennessee's offense and then shot better than 45 percent from the field to wrap up the Raiders.
A 25 point lead after three quarters was too much to overcome as the Raiders were held to 35 percent from the field.
Francesca Pan led the way for Georgia Tech with 18 points and 6 rebounds. Zaire O'Neil recorded 14 points and 4 rebounds for the Yellow Jackets.
After wins over Jacksonville, UCF and MTSU, Georgia Tech moves into the WNIT Quarterfinals against Alabama. The game is slated for Sunday, March 26 at 2:00p E.
Looking back over the season, Georgia Tech lost to Alabama in mid December, 67-65.
The Yellow Jackets defeated the Hokies in early February, 87-81.
Is it possible that the WNIT Championship could be an all ACC event?
Here are the scenarios leading to that possibility.
Virginia Tech

defeats Michigan.
The Hokies meet the winner of Villanova vs Indiana.
A win in the semifinals sends them to the Championship.

Georgia Tech

defeats Alabama.
The Yellow Jackets meet the winner of Washington State vs Iowa.
A win in the semifinals sends them to the Championship.
Will we get that Virginia Tech vs Georgia Tech matchup in the WNIT Championship?
Let's not look too far ahead just yet. It would certainly be a fun rematch and a good recruiting tool for both programs.