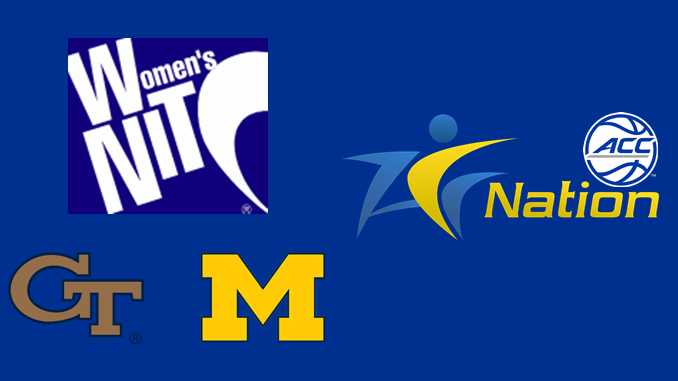 WNIT Championship Pits Georgia Tech Against Michigan
With a win over Washington State in the semifinals the WNIT Championship Pits Georgia Tech Against Michigan.
The WNIT Tournament began with four teams from the ACC.
We're about to find out if the Yellow Jackets have what it takes to close the deal on a championship.
Georgia Tech began with an opening round 71-55 thumping of Jacksonville. Then the Yellow Jackets quickly dispatched of UCF, MTSU and Alabama.
In their closest matchup so far, Georgia Tech effectively worked both ends of the floor to take down Washington State, 69-61.
A 12-0 run on offense in the fourth quarter and a defensive effort that kept the Cougars to just 7 points wrapped up the game for the Yellow Jackets.
Zaire O'Neil delivered 20 points, 16 rebounds and 4 assists to lead Georgia Tech. Francesca Pan, a freshman, scored 14 points, Imani Tilford, 12 and Elo Edeferioka tallied 11 and pulled down 16 rebounds.
---
The Championship-Who's Next?
---
Michigan defeated Villanova, 65-61 to advance to the WNIT Championship against Georgia Tech.
Hallie Thome lead Michigan with 22 points and 7 rebounds. Katelynn Flaherty recorded 18 points and 5 rebounds, Siera Thompson had 12 points and 5 assists while Jillian Dunston delivered 8 points and 10 rebounds.
The Wolverines, much like Georgia Tech are strong on rebounding. The boards will likely be very physical as both teams work to control the real estate.
Both teams performed below par in their games outside the arc further pushing this game into the paint.
It's the third consecutive year in the semifinals for the Wolverines who will serve as the host to Georgia Tech on Saturday, April 1 at 3:00p E. The game will be televised on CBS.