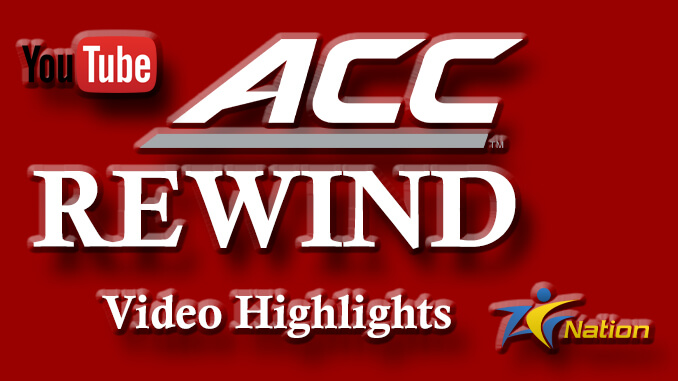 Who's Got Game?
Another week in ACC men's basketball and another round of surprises. The conference maintains it's reputation as the go to place for top notch college basketball. With Saturday's lineup it was just a matter of finding out, who's got game?
When it comes to the standings, Virginia tops the conference with a 9-0 mark. Louisville, who will face the Cavaliers on Wednesday, January 31 in Charlottesville are in second place at 6-2. Duke, who entertains Notre Dame on Monday, January 29 in Durham is third with a conference record of 6-3.
At the fourth spot is Clemson (who faces Georgia Tech later today, Sunday, January 28) with a 5-3 record. Holding down the fifth spot is Florida State and North Carolina with 5-4 records.
The seventh spot is held by three teams, each at 4-4 in the conference. Miami, Syracuse and Virginia Tech share that portion of the standings.
Miss some of the action this weekend? We've got video highlights from six weekend games and links to coverage to get you up to speed.
---
Who's Got Game?
---
Virginia Tech traveled to South Bend looking for a key postseason qualifying win against Notre Dame. The Hokies, behind Justin Bibbs' 20 points and Chris Clarke's second half rally came away with the decision, 80-75.
Louisville welcomed Wake Forest into the KFC Yum Center and proceeded to deliver a crushing 96-77 win.
Florida State played host to cross state rival Miami and pushed the Canes to the limit before cinching the 103-94 OT win.
Syracuse looks for the magic combination as they pull out a too close for comfort win over Pitt. Final score: Cuse 60 Pitt 55.
NC State is turning out to be that one ACC team you don't want to face if you are even remotely off your game. The Wolfpack delivered an exciting upset win over North Carolina in overtime, 95-91.
---
Who's Got Game?
---
More than likely, if you weren't at the Virginia-Duke game, you were watching CBS Sports coverage. At the very least you caught the tail end of the Pack-Tar Heels match up and became frustrated when you missed the front end of the game you tuned in to see.
For future reference, always set up a quick link to the streaming services of the provider so you don't miss anything.
Here are a couple of links to stories that we thought you'd find interesting.
ESPN – Jeff Goodman "Virginia makes strong statement with rare win at Duke"
North State Journal – Shawn Krest "Duke's loss to Virginia a learning experience for Duval"
Duke Basketball Report – JD King "More on Duke-Virginia"
Richmond Times-Dispatch – Paul Woody "Players say UVA's Tony Bennett 'as fired up as I've seen him' in win over Duke"
NCAA.com – Joe Boozell "Duke vs. Virginia: 6 things we learned as UVA beat the Blue Devils in Durham for first time in 23 years"