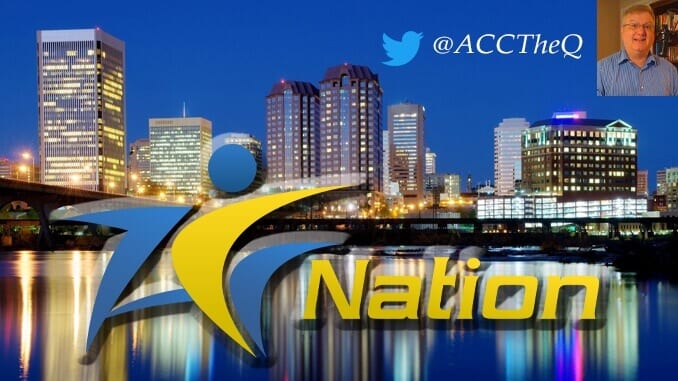 What Quarterback Controversy?
Let me get this out of the way right now. Some people have a problem with good healthy competition at quarterback being called a, "controversy." I don't. A quarterback controversy is just what it sounds like. No one is sure who the starter will be and there's competition for the position. In today's world that may also mean someone is leaving your team. That's a controversy in my book.
If I were a fan of a team I'd prefer there not be any turmoil at that position, ever. We all need some reassurance that things are going to be okay. Don't look my way if that's what you need. Today, I'm here to tell you, there's some quarterback controversies brewing. That may be a good thing.
Perhaps you've listened to our podcast. If you have then you would have heard me call the situation at Clemson a controversy. Apparently, some people didn't look at it that way. That is, until after the Spring Game.
---
Too Much Of A Good Thing
---
You may have thought that Kelly Bryant was a lock to start the season for the Tigers. I'm here to tell you that, at best, unless Bryant shows his stuff early he'll be sitting the bench. Sure, Bryant is the more mobile of the quarterbacks on the roster. But, is he all 'that' at the level Clemson aspires to?
Who's pushing for that starting role? A long-haired country boy named Trevor Lawrence is the answer. Lawrence just happened to break all of Deshaun Watson's Georgia high school records so he's a bit more than just talk. Lawrence's performance in the spring game generated enough buzz to effectively push former 5-star Hunter Johnson into transferring. That's worth talking about.
Lawrence isn't a speedster but he's by far the better passer on the roster. The tall, big-armed freshman seems to have a command of the field and a quick release that seems light years ahead of Bryant. As a side note, this is the type of player that NFL scouts will be keeping an eye on.
My thoughts expressed, along with my colleague Xayveon on ACC Nation Podcast, is that Lawrence will only need a game or two to take over at Clemson. If he can continuing delivering the passing game and poise he's shown on the field he will have earned a spot. Might he be, instead of Bryant leading Clemson to a shot at the national title?
I don't want to discount the physicality and experience of Bryant. He's more than capable of elevating his play and taking firm control of this team.
As with everything, Dabo Swinney demands that one of these young men prove they've earned that spot.
---
What Quarterback Controversy?
---
Let's head south to Florida State where quarterback and controversy seems to have been a running theme the past few years. It isn't only on the field, either.
All those dreams of heading to a national championship in 2017 behind Deondre Francois went as flat as a popped balloon in the first game of the season against Alabama. Seminole fans everywhere suddenly saw their hopes evaporate in front of their eyes as Francois went down with a torn patellar tendon. The injury and loss of Francois seemed to take the wind out of the sails of the team as the season rapidly got flushed.
Then to top off the whipped cream with a cherry, icon Bobby Bowden's heir to the kingdom in Tallahassee decided Florida wasn't hot enough and headed to the state of Texas. Jimbo Fisher had his "Show me the money" moment. Off he went to Texas A&M for an insane (on their part) 10 year, $75 million contract. Good for you, Jimbo. Best of luck earning it.
But I digress, back to the quarterback portion of controversy in this article.
---
On And Off The Field
---
With Francois gone, in walks an ill-prepared (3 months out of high school) freshman by the name of James Blackman. Blackman, who was listed as 6'5″ and 185 lbs. looked at times like a toothpick running for his life from Redwood sized defensive linemen. Those linemen were equally as tall but packing 100 or more additional pounds. The young quarterback took more than his fair share of licks , got back up, shook it off and went back to work. There were moments in which Blackman shined but the lack of fully understanding the system and his lack of experience was detrimental.
Based upon his performance in 2016 Francois has the lead, at least on paper. The reality is both Francois and Blackman stepped onto the practice field with clean slates. Well, almost. As previously indicated, Florida State quarterbacks have been known to make bad decisions off the field as well. Francois was cited for possession of marijuana during the offseason. It remains to be seen if that impacts head coach Willie Taggart's decision on who will lead the team.
In the meantime, Blackman appears to be spending his time digesting the simpler Taggart offensive scheme and bulking up to around 200 lbs. Francois is still recuperating so has limited workout time but one would assume he's studying his playbook as well.
A final decision on who leads the team won't be made until the fall. This is one controversy that could actually benefit the Seminoles.
---
What Quarterback Controversy?
---
Mark Richt's rebuild of Miami probably took off faster than most observers, including the coach, imagined it would. The 2017 Canes had some special talent and a whiz at turning the corner at the helm. However, they weren't stocked with the type of players that helped them go head to head in critical games.
Depth and experience are critical to the success of any team but more so in college. Without a steady stream of top ranked recruits who can learn the system and then make a seamless transition you can quickly find those holes exploited. Richt is effectively addressing those very issues with recruiting.
Miami found itself in that position numerous times throughout the season last year. Malik Rosier may have set a program record in total offensive yardage but his inconsistency was often a momentum buster.
The Hurricanes are in a much better place this year when it comes to their quarterback. But, once again we do have a controversy. This time, we'll call it, "The Churn".
---
Polishing The Stone – Gem Or…?
---
The one thing Rosier has going for him is his experience. He'll need it with some questions surrounding the Miami offensive line this year. The Canes may be in need of the scrambling abilities of Rosier something Richt observed they'll need opening against LSU.
Pushing for the quarterback spot are N'Kosi Perry who is a redshirt freshman and early enrollee Jarren Williams.
Should Perry and Williams deliver something special in fall practice and earn the trust of Richt then Rosier may not earn the position, warts and all, by default. Pushing Rosier with competition in practice may help sharpen his skills and reduce his inconsistency. A goal that Richt and Rosier are both shooting for this year.
If there is one thing the team can't afford to do is come out of the gates with a lackluster showing against LSU. One loss may not tank a season but it can throw a monkey wrench into the road Richt has laid out to the ACC Championship and beyond.
---
What Quarterback Controversy?
---
Though Notre Dame is still an Independent, the rarest of the rare in college football, they have five ACC games on their schedule this season. The Irish will face Wake Forest, Virginia Tech, Pitt, Florida State and Syracuse in the fall.
Keeping that in mind it's good to keep an eye on Brian Kelly's squad. So, how does the quarterback situation look in South Bend?
Last year's starter, Brandon Wimbush had issues galore with accuracy. Mechanics and mental gymnastics put Wimbush into a hole that with a little help, he appears to have pulled himself out of but we'll only know for sure come game day.
Wimbush is the seasoned choice who brings skills as a dual-threat quarterback to the table. If he's hitting on all cylinders he's the guy Kelly wants leading the Irish.
Kelly has Ian Book as a dependable backup to Wimbush. Book endured trial by fire late last season and will be competitive in practice which is what Wimbush needs.
Also on the roster are Avery Davis and freshman Phil Jurkovec who is generating some excitement especially for those looking to the future.
If Wimbush has conquered the issues that put him off his game last season opponents are in for a challenge. There's even chatter about a run at the Heisman Trophy.
All tall orders and it will be fascinating to watch it all unfold this fall.
---
---