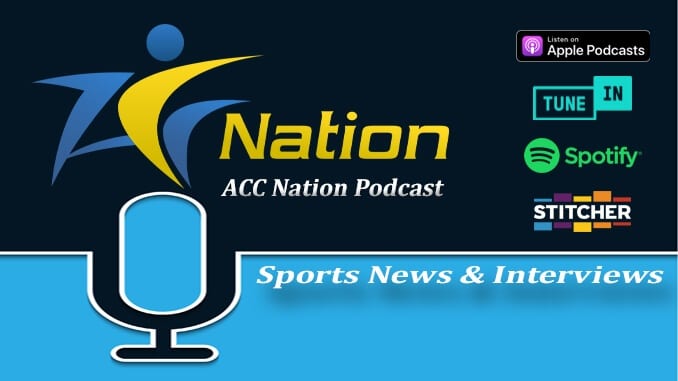 Podcast: Play in new window | Download (Duration: 42:47 — 33.7MB)
Subscribe: Apple Podcasts | Android | Email | Google Podcasts | Stitcher | TuneIn | Spotify | RSS | More
As long as the final score is to your advantage, you take the win. That doesn't mean you have to be happy with the outcome. Players and coaches should never be satisfied with yesterday's performance. In some cases this past week, specifically in ACC basketball there is plenty of room to be happy, for others, not so much. There will likely be a few restless nights this week as not only players and coaches but fans replay some haunting moments from this week's games.
On this week's episode of ACC Nation Podcast (Episode #151), Xayveon and Jim will slather some of that basketball ugly in between two slices of whole wheat bread. They'll toss in a slice of tomato to keep it interesting and then invite you to take a big bite along with them. In some cases, it's not so tasty.
First things first though as we check out sports from across ACC Nation. Find out who's on top of the conference in wrestling and indoor track and field this week in the rundown.
There's a battle going on in gymnastics and it involves three schools from the ACC. Find out what teams from the conference are ranked in collegiate ice hockey.
New preseason polls are coming out soon for beach volleyball, rowing and golf. We'll have all three and hopefully, we'll drop fewer puns.
Take The Win
Check out the stories we have on men's and women's preseason lacrosse plus the All ACC teams.
Who are the top teams in men's and women's tennis from the conference? We'll have the individual rankings from the ITA this week as well.
---
---
Be sure to check out Jim's interview with Michael Kyllo-Kittleson, Editor at Fastpitch News this week about what to expect in college softball this season. It's a close-up look at the conference and more in a special episode of ACC Nation Podcast.
What's for dessert in ACC basketball? Louisville serves up an upset of UConn. Can't get much tastier. Find out what players were the keys to winning.
Enjoy this week's episode and be sure to subscribe to have each podcast sent you automatically.
---
Take The Win
Noteworthy Games This Week 2:21
Duke over St. John's
Is Zion really the best choice at No. 1 in the NBA Draft? 6:17
Florida State over Georgia Tech 13:01
North Carolina over Louisville 15:00
Why all eyes are now on Luke Maye 19:32
Virginia Tech over NC State (ugh) 20:03
Virginia over Miami 24:47
Notre Dame over Boston College 28:17
Syracuse over Pitt 29:30
Games To Watch This Week 32:45
Surprise picks? You betcha….
Who will we be eating crow over in our Super Bowl picks?
Take The Win
---
Follow ACCNation.net on Twitter, Instagram and Facebook.