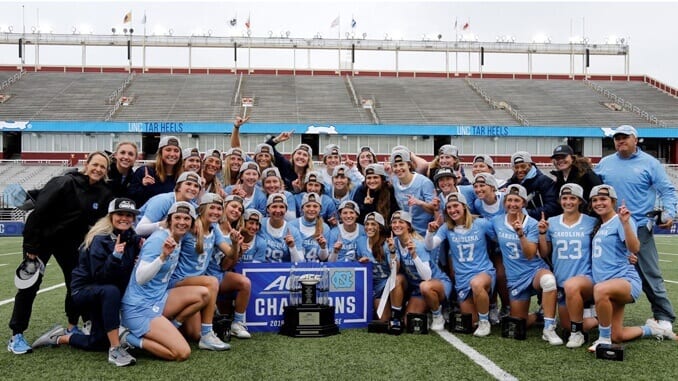 "That's what championship play is all about." North Carolina head coach Jenny Levy couldn't have put it any better as she watched her Tar Heels rally from five goals down. "We just encouraged them to stick together and keep fighting." That they did as North Carolina went on to win the ACC Women's Lacrosse Championship for the fourth consecutive year.
Boston College came into the game both unbeaten and the top ranked team in the nation. The Eagles attacked North Carolina immediately and in less than seven minutes owned a 5-0 lead. The flurry began with Sam Apuzzo netting two followed by another two from Cara Urbank. Taylor Walker nailed a quick shot thereafter to lock in what seemed like an insurmountable lead for the Eagles.
With Boston College leading 6-1 with under 20 minutes left in the first half of play North Carolina turned the tables. The Tar Heels reeled off five goals with the tying shot delivered by Gianna Bowe.
Stick Together
Kenzie Kent popped two of three goals for Boston College as the Eagles took at 9-7 lead at the half.
As the second half of play got underway it was North Carolina's turn to deliver an offensive flurry. Katie Hoeg punched in the goal that put the Tar Heels in the lead for the first time at 10-9.
---
Gabriel & Co. has gifts for every occasion. Commemorate your special day with our vast selection of fine jewelry. Shop now.
---
After trading scores North Carolina went on another three point rally to take a 14-11 lead. This time it was Tayler Warehime's score that put the Tar Heels in the driver's seat.
The Eagles powerful offense kicked into gear once again to bring them within a goal at 14-13. It wouldn't be enough as North Carolina's Hoeg added the finishing touch that locked in the win at 15-13.
All-Tournament Team
Jamie Ortega, North Carolina MVP
Gianna Bowe, North Carolina
Katie Hoeg, North Carolina
Emma Trenchard, North Carolina
Elise Hennessey, North Carolina
Sam Apuzzo, Boston College
Dempsey Arsenault, Boston College
Kenzie Kent, Boston College
Emily Hawryschuk, Syracuse
Grace Fahey, Syracuse
Olivia Jenner, Duke
Gabbe Cadoux, Duke
Jamie Ortega, MVP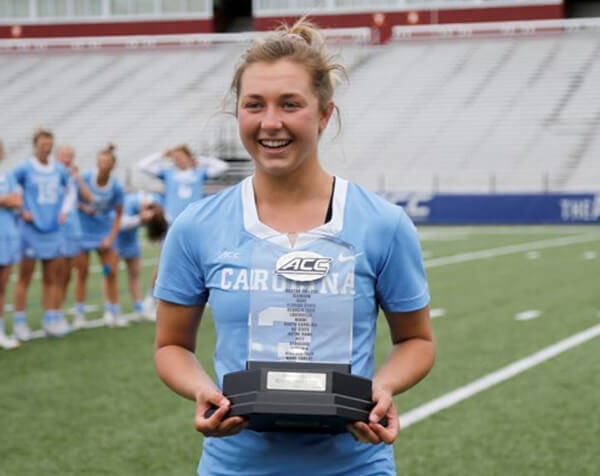 ---
Shop Limited Sales Items Now. Act Now Only At Mophie.com
---
Follow ACCNation.net on Twitter, Instagram and Facebook.