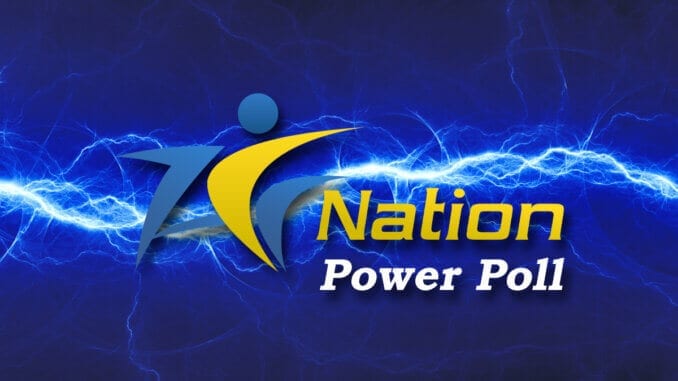 ACC Nation Staff @accnation –
It doesn't matter whether it's a business or a football team, you don't want to have numbers that show shrinking returns. When you look the bottom 5 teams in the ACC Nation Power Poll it has to be a bit disconcerting. Not that any team deserves to be in this position but among this grouping are three teams that are typically knocking your socks off. This is the second year of fans asking, WTH is going on?
If we had a clear cut answer we wouldn't be gathered around keyboards cranking out our numbers. We'd be collecting a tidy paycheck from the highest bidder. Until that day arrives, we'll just keep playing the lottery.
Not many fans have the kind of patience that it takes to wait for a coach to turn their program around. Here's the thing, even Athletic Directors have finite patience so if they aren't seeing forward progress the wheels start to turn. By wheels, I mean they start thinking about who will be taking the reins because inaction is also how many an AD has lost their job as well.
Are we at a point where head coaches should be spiffing up their resumes? Probably not, but if there isn't noticeable improvement from game 6 until the end of the season it usually precipitates a frank discussion behind closed doors.
---
Panning For Gold: ACC Nation Podcast
---
Shrinking Returns
ACC Nation Power Poll
| | | | |
| --- | --- | --- | --- |
| RANK | TEAM | POINTS | LAST WEEK |
| 1 | CLEMSON | 60 | 1 |
| 2 | NOTRE DAME | 55 | 2 |
| 3 | VIRGINIA | 53 | 3 |
| 4 | WAKE FOREST | 48 | 4 |
| 5 | PITT | 41 | 10 |
| 6 | SYRACUSE | 39 | 6 |
| 7 | NC STATE | 36 | 8 |
| T 8 | BOSTON COLLEGE | 26 | 9 |
| T 8 | NORTH CAROLINA | 26 | 5 |
| 10 | FLORIDA STATE | 22 | 13 |
| 11 | MIAMI | 21 | 7 |
| 12 | DUKE | 19 | 12 |
| T 13 | VIRGINIA TECH | 15 | 14 |
| T 13 | LOUISVILLE | 15 | 11 |
| 15 | GEORGIA TECH | 4 | 15 |
---
Advertisement
---
Top Tier
Where's this week's positive news? Both Pitt and Florida State stand out in the poll after wins. The Panthers knocked off a previously ranked No. 15 UCF after a close loss to Penn State. Are things coming together for Pat Narduzzi?
As for the Seminoles, a battle with Louisville demonstrated to the team that they can win. It also helps them escape the 'snatches defeat from the jaws of victory' mentality that's been running rampant.
---
What Are You Missing? Listen To ACC Nation Radio
---
Out of our top 4 only Notre Dame missed an opportunity to notch their win belt. How the loss to Georgia plays out over the next few weeks especially as we approach the first College Football Playoff poll remains to be seen. The Irish continue to get the nod as No. 2.
---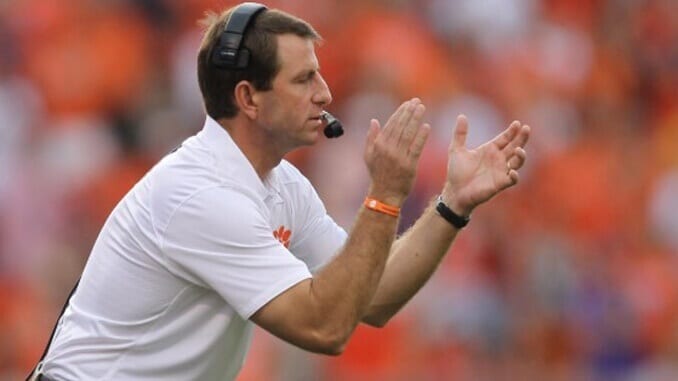 ---
The Next Level
Out of the next five teams we've already discussed Pitt so we'll take a quick look at the rest.
Syracuse is almost stuck in the middle of the conference. Not bad, not great. Middling. Until something can be done to correct the Orange defense don't expect any changes. Even with an improving offense a loss to 'Cuse is like being flogged with a wet noodle for 60 minutes.
We could almost go the same route in describing Boston College as their defense has been suspect. The offense is improving and taking advantage of the talent on the roster. The win over Rutgers didn't start out well and fans were immediately calling for Addazio's head on a plate. The speed at which that uproar occurred on social media is a sign that frustration has been building for some time.
---
Advertisement

---
The social media 'dislike' of North Carolina is real. Not just football, pretty much anything. It came out in full force as the Tar Heels dropped to Appalachian State. Ironically, the 'haters' seemed to outweigh the 'lovers' at points. After seeing the number of empty seats we're pretty sure the football team has a long way to go to begin challenging basketball for rear-ends.
Shrinking Returns – Bottoming Out
Looking at this list of teams (Florida State, Miami, Duke, Virginia Tech, Louisville, Georgia Tech) at the bottom of the ACC Nation Power Poll is, well, disheartening. With a slight exception, these aren't fan bases that are used to losing. Here's where shrinking returns begin to come into play.
---
Panning For Gold: ACC Nation Podcast
---
This week, Duke and Virginia Tech go head to head. Duke has had a reasonable season thus far and shown flashes on offense and defense. Virginia Tech is struggling. Frankly, a loss by the Hokies on their home turf to the Blue Devils will be like a dagger to the heart. Speaking of heart, the team who has more will come out of this with a win but not before stopping the hearts of fans along the way.
As for Louisville and Georgia Tech? Keep plugging away. Everyone loves an underdog so you probably have more people cheering on your success than you'd imagine.
---