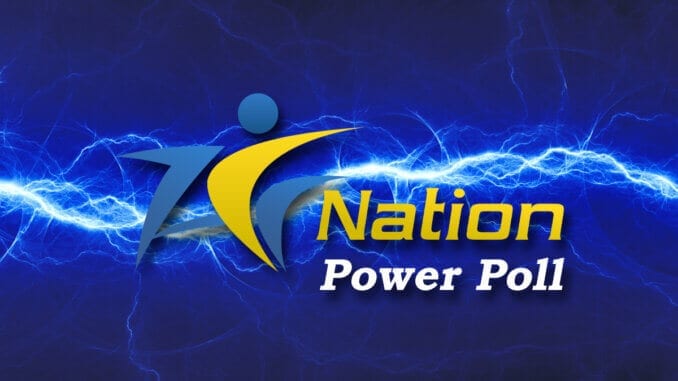 ACC Nation Staff @accnation –
We're at that point in the college football season where teams show their true colors. There's still time to recover from shaky starts and we'll see which coaches can rise to the occasion. For those at the top complacency often turns a team into their own worst enemy. Shake and bake time folks. Let's find out who's rising to the top of this week's ACC Nation Power Poll.
The focus this week is on the top 4 teams in the poll. Clemson slipped out of Chapel Hill licking their wounds as Mack Brown's Tar Heels made Tiger fans pucker up. Dabo Swinney remained objective, complimented his opponent and let fans know, 'we'll be alright' in his press conference.
---
Listen To Mack Brown And Dabo Swinney On ACC Nation Podcast
---
Notre Dame and Virginia started out as a true battle before adjustments by Brian Kelly got the better of the Cavaliers. Bronco Mendenhall bemoaned the turnovers that put a dent in the game plan of Virginia. His comments can be heard on this week's podcast.
Wake Forest and Boston College fought tooth and nail in a game that was about as evenly matched as imaginable. The Deac's came out on top and arrived at the 5 game win mark in the ACC first. It helped launch them into the AP Top 25 and, of course, pushed them up in the points of this poll.
Rising
ACC Nation Power Poll
| | | | |
| --- | --- | --- | --- |
| RANK | TEAM | POINTS | LAST WEEK |
| 1 | CLEMSON | 60 | 1 |
| 2 | NOTRE DAME | 56 | 2 |
| 3 | VIRGINIA | 50 | 3 |
| 4 | WAKE FOREST | 49 | 4 |
| 5 | PITT | 40 | 5 |
| 6 | NORTH CAROLINA | 37 | T 8 |
| 7 | SYRACUSE | 35 | 6 |
| 8 | DUKE | 30 | 12 |
| 9 | FLORIDA STATE | 29 | 10 |
| T 10 | MIAMI | 22 | 11 |
| T 10 | BOSTON COLLEGE | 22 | T 8 |
| 12 | NC STATE | 19 | 7 |
| 13 | LOUISVILLE | 18 | T 13 |
| 14 | VIRGINIA TECH | 10 | T 13 |
| 15 | GEORGIA TECH | 4 | 15 |
---
Advertisement –
---
Who's Up? Who's Down?
We'll start with who stays in the same position as last week. Pitt tops the list at No. 5 following a struggle and win over Delaware. Yes, some players were out and the Panthers are recovering from their UCF high hangover. But, without some consistency this team will always be a riddle, wrapped in a mystery, inside an enigma.
On the other side of the equation we have Louisville and Georgia Tech. The Cardinals continue to show signs of life after the Petrino derailment. It's not quite enough to help them rise out of the basement. As for the Yellow Jackets? Even with the knowledge that this team is in the midst of a complete re-build, fans (and casual observers) are frustrated with the results of this season.
---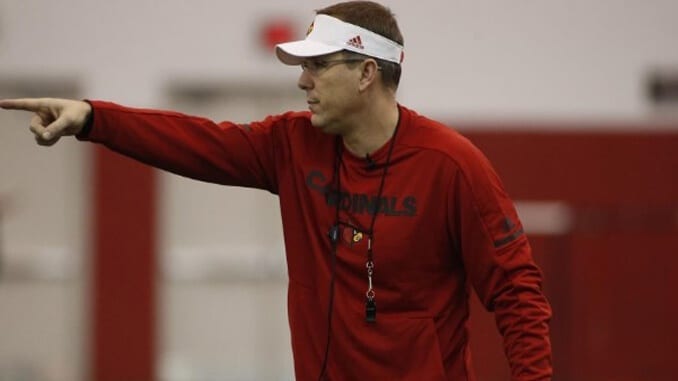 ---
Blacksburg, There's A Problem – Will's World Of Football
---
North Carolina, Duke and Florida State move up following their performances on the field this week. Each team continues to show improvement and a degree or two of consistency where it counts.
Slip sliding away are Syracuse, Boston College, NC State and Virginia Tech. It could reasonably be argued that Syracuse should have stayed put. The thing is the rest of the conference continues to chug along and the once ballyhooed Orange story-line is becoming long in the tooth.
---
Advertisement –
---
Rising Stars
This week, teams will have another shot at becoming a rising star in the ACC Nation Power Poll. We'll toss the Notre Dame game against Bowling Green out the window as a stat padder and look at the conference games.
Louisville and Boston College will be a tell game on many levels. The Cardinals continue to improve but have they reached a level where they can shut down the solid offense of Boston College? Who gets hurt more with a loss? The Eagles can't afford to stumble against a savvy Scott Satterfield. Steve Addazio needs a win and a big win at that.
The Foibles Of Football
Miami and Virginia Tech, without a doubt two of the more disappointing programs (at this point of the season) in the ACC. There were high hopes, dreams of a division title and a shot at Clemson. Truthfully, a loss by either team and it's Captain Crunch time. Fans will find other venues to spend money on and friend-o, you can't go messing with the bottom line.
We're simply leaving the North Carolina and Georgia Tech game alone. Next.
Finally, the Duke and Pitt game is a huge tell for both programs. So many bright spots that perhaps just need some extra spit shine. It will be interesting to see how this plays out in the ACC Nation Pigskin Picks.
---