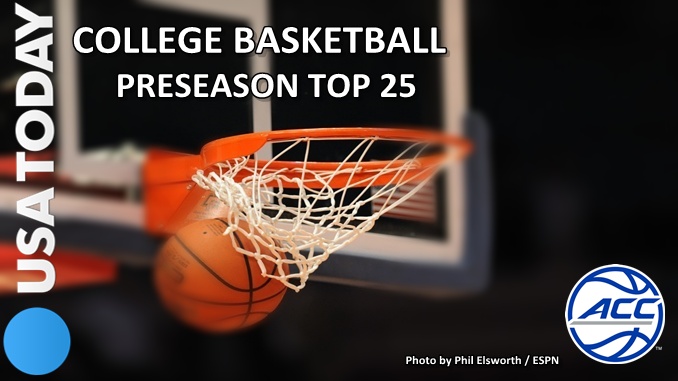 Preseason College Basketball Rankings
Is It Bad To Be So Good?
USA Today gives thumbs up to six ACC men's basketball teams in the latest preseason college basketball rankings.
There's not the wholesale turnover among teams that was anticipated especially with a number of players opting out of the upcoming NBA Draft.
Without any doubt, the ACC has more than it's fair share of loaded teams but what they don't have is the top team, at least in this Top 25, in the nation.
The reigning NCAA Men's Basketball Champion Tar Heels were no different than most college teams in they lost top performers to graduation and the draft. Roy Williams isn't one to snooze on the recruiting efforts, but reloading isn't a back breaker for North Carolina.
Among players returning this season, Joel Berry, II, Theo Pinson, Luke Maye and Kenny Williams. When it comes to recruits, Jalek Felton is ready to be an immediate contributor.
---
Preseason College Football Rankings
---
Don't get too far ahead of yourselves Tar Heel fans, USA Today doesn't think you'll be the top dog in the ACC this season.
Duke's Mike Krzyzewski has mastered the fine art of reloading a team. After more than a handful of top performers went out the door, Coach K brings in a fresh batch of top 10 freshman to fill the vacancy.
Some of the players to keep an eye on this season include Wendell Carter, Gary Trent, Jr and Trevon Duval.
To help lead the Blue Devils and pick up where injuries have stymied his college career, Grayson Allen returns looking for some redemption.
The Louisville Cardinals join Duke as one of two teams in the top 10 of the rankings and with good reason.
Rick Pitino returns 6 of 8 top scorers from last season including Deng Adel and Quentin Snider.
Five star recruit, Malik Williams, a seven footer, should see immediate playing time for the Cardinals.
---
College World Series
---
Notre Dame grabs a spot in the top 15 of the rankings. Coach Mike Brey is working to fill in some bare spots on the bench this season.
With the return of Bonzie Colson and Matt Farrell, the Irish won't be hurting for firepower or rebounds.
When it comes to coaching savvy, one of the more subdued in the conference is Miami's Jim Larranaga. The spotlight will shine more brightly on the coach this season. The Hurricanes return 6 out of 8 of their top scorers and will throw down with the best.
Larranaga returns Ja'Quan Newton and Bruce Brown and adds recruit Lonnie Walker to the mix for the upcoming season.
Miami is just outside the top 15 but don't look for them to stay there very long. Don't even use the term, "dark horse" when speaking of this team because you'd be way off base. Dangerous is a better term.
Here's a surprise in the rankings. Where this team is and isn't showing up is raising a few eyebrows.
The Cavaliers just barely made the Top 25 and have been conspicuously absent in others.
Virginia at the bottom of the rankings? Don't expect Tony Bennett's Cavaliers to linger in the cellar very long. At least no more time than it takes to select wine for dinner.
Three point terror Kyle Guy returns to solidify a young team that showed enormous potential last year.
And don't forget, that defense, that wet blanket in your face, hard to breathe defense. Now it has an extra year of experience and growth behind it.
---
Preseason College Basketball Rankings
---
 At the end of March, Ken Pomeroy (kenpom.com), unleashed the computer for version one of the 2018 preseason Top 10.
There's plenty of hope in there for Cavalier fans and as noted above, with good reason.
Also in the mix, Lousville and North Carolina.
Take a look for yourself and be sure to print the list off for the refrigerator so you can compare notes come March Madness.
Since we're getting a bit ahead of ourselves here, why not bring in Joe Lunardi for his Way-Too-Early 2018 Bracketology.
The ACC leads conferences with eight teams selected in his projection for the upcoming season.
Is your ACC team where you expected in the preseason college basketball rankings?