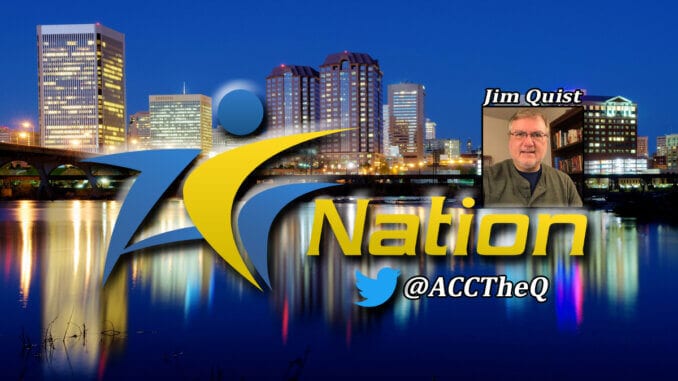 Jim Quist @ACCTheQ –
When it comes to polls, preseason or otherwise, there's one thing voters should keep in mind. Don't be a homer. Why? Let me share a few repercussions that come from voting for the home team. One, it flushes any reputation you've built over the years down the hole. Two, you build up unrealistic expectations among fans. That unfair burden lands squarely on the shoulders of coaches and players. Three, the ultimate credibility of the very poll in which you are voting joins you in example one.
Quite frankly, none of this is positive and that, my dear voter, falls completely upon your shoulders. I get it, the prestige of being on a panel is something you like to toss around on social media to impress the casual sports fan. And, among your peers, as if it were golden. Nobody is dismissing the honor of being selected to present your views in this manner. We're simply asking for, well, better.
I can bellyache about polls, rankings, or whatever spin you want to put on their title until I'm blue in the face. I just think you, the fans, coaches and players all deserve more. That one small vote you submit each week carries a lot of weight. Think pebble in pond ripple effect.
Polls
For everyone who has heard me go off on this topic before I'm adding more weight to the conversation. Daniel Wilco's piece, Does college football's preseason AP poll predict the final AP poll? over at NCAA.com delves into the numbers.
Before you read his article, keep this number in mind – 61.8%. And remember, if that were a score on your high school or college paper you'd be failing. Quite honestly, you may want to reconsider your career track if that was the best you could do.
---
---
Here's a point that Wilco makes in his article that I haven't lost sight of in my criticism of polls. "Preseason polls are, at best, really good guestimates. Throughout the course of the season, teams will suffer injuries, watch highly-touted players fall short of expectations, unheralded players become stars, veterans have breakout seasons, and many more unpredictable storylines. With 130 schools in the FBS, it would be an extremely impressive feat to predict all the chaos that will unfold in a 16-week season."
Nobody Said It Would Be Easy
Granted, it's not easy to make these picks. My argument has and always will be that voters on the panel should be more than local or regional in nature. There are individuals who fit that category who I trust to do their research. That's a lot of time and energy spent on sifting through 130 programs.
It becomes apparent from week to week that some panel members aren't doing it. Their team shows up, much to the chagrin of everyone else in the world, receiving vote(s). Why? Seriously, why?
---
North Carolina Women's Soccer Picked To Win Conference
---
A term often used for selecting the best cattle to go to market is culling. Perhaps a bit of culling among voters practicing this level of professional laziness is in order. The removal of homers would leave the best to provide more insightful and accurate polling.
Honesty
If at this point you're being defensive and want to ask, "can you do better?" My answer is no, I can't and I know that. How would I respond if asked? "I'm honored but I don't have the time to do a deep dive in the manner befitting the poll." At which point I would recommend a few people.
Five seconds of honesty with yourself and others is a wonderful thing.
---
Jim Quist is Managing Editor of ACC Nation and Co-Host of ACC Nation Podcast. He's a member of NSMA (National Sports Media Association), FWAA (Football Writers Association of America) and USBWA (U.S. Basketball Writers Association). He is enrolled in the Beer Brewer Professional Certificate program at the University of Richmond. Follow him on Twitter @ACCTheQ.
---