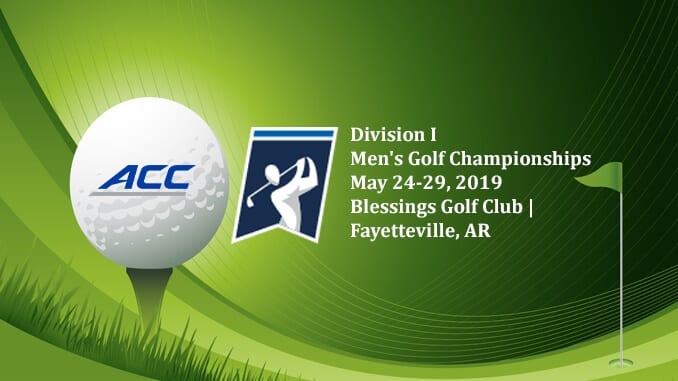 One ACC men's golf team from each of the six NCAA Regionals has advanced and will now play in the championship rounds. Clemson, Duke, Georgia Tech, Louisville, North Carolina and Wake Forest qualified by being among the final five teams. All six teams will head to Arkansas to compete for the title. The highest regional team finishes came from Duke and North Carolina. The Blue Devils finished second and the Tar Heels tied for second.
With five teams and the top individual from each regional advancing the field narrows to 30 teams and 6 individuals vying for a title. This portion of the tournament consists of three days of stroke play from Friday, May 24 through Sunday, May 26. A total of 54 holes will determine the top 15 teams and 9 individuals from teams that aren't advancing.
Clemson finished third overall in the Austin Regional with a total score of -1, 851. The Tigers were led by Bryson Nimmer who tied for sixth place with a score of -3, 210 and Colby Patton who tied for eighth at -2, 211.
Duke, as mentioned, took second place in the Athens Regional with a team score of -1, 851. The Blue Devils were led by Alex Smalley who tied for seventh with teammate Chandler Eaton. Both golfers finished at -1, 212.
---
Did You Know It's American Craft Beer Week?
In the Pullman, Washington Regional Georgia Tech finished fourth with a blazing -22, 818. The Yellow Jackets were led by Andy Ogeltree who tied for twelfth shooting -7, 203.
Louisville took fourth in the Simpsonville, KY Regional shooting +7, 859. The Cardinals' Matthias Schmid finished -6, 207 and tied for second. Teammate John Murphy tied at twelfth and shot -2, 211.
Play Through
North Carolina traveled west to play in the Stanford Regional and finished tied for second. The Tar Heels shot -11, 829 and were led by Ryan Burnett who tied for second and shot a -7, 203.
---
Shop The New Ben Hogan GS53 Drivers!
---
Wake Forest didn't have far to go as they came away with third at the Myrtle Beach Regional. The Demon Deacons shot -15, 849 and were led by freshman Eugenio Chacarra who tied for sixth at -8, 208. Teammate Cameron Young finished his three rounds in tenth place with a -5, 211 performance.
Eugenio Chacarra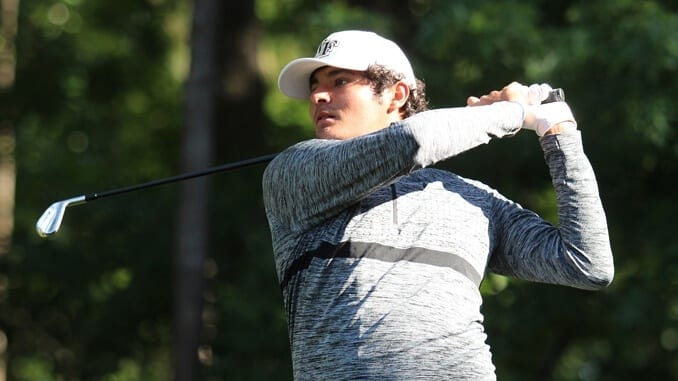 The Finishing Touches
The final day of 18 holes of stroke play is on Monday, May 27 to select the top 8 teams advancing to match play as well as the 72 hole individual champion.
The team national champion is determined by match-play consisting of quarter and semi-finals on Tuesday, May 28. The finals will be played on Wednesday, May 29.
Jim Quist is Managing Editor of ACC Nation, Co-Host of ACC Nation Podcast and a member of FWAA (Football Writers Association of America) and ACSMA (Atlantic Coast Sports Media Association). He is enrolled in the Beer Brewer Professional Certificate program at the University of Richmond. Follow him on Twitter @ACCTheQ.
---
Shop various styles of superior recliner chairs to complement any room, at La-Z-Boy.com!
---
Follow ACCNation.net on Twitter, Instagram and Facebook.