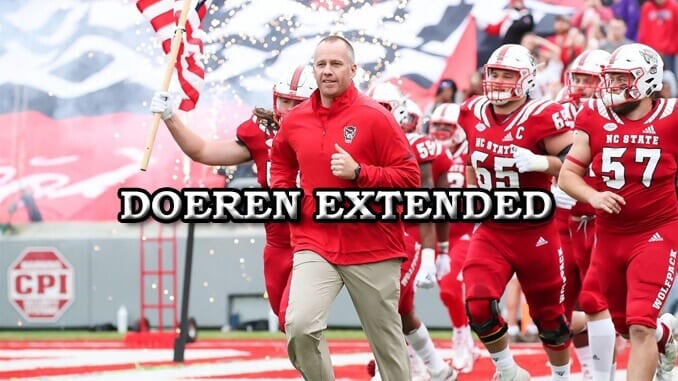 Jim Quist @ACCTheQ
Is Dave Doeren doing something right with Pack Football? NC State seems to think so and have extended his contract for an additional 5 years through December 31, 2023. Doeren's compensation got a bit of a bump as well going from $3 to 3.25M annually. The negotiations began in November of 2018. The NC State Board of Trustees recently handed down approval of the new package.

That's not the quickest turnaround in negotiations that we've ever observed. Delays of this nature could put NC State on the short end of the negotiating stick in the future. What coach wants or can afford to wait close to half a year for an answer. Whether that's correct or not, it has now become a perception.
It's Doeren's seventh season at NC State. He was previously at Northern Illinois University where he was head coach from December 2010 through 2012. Prior to that he was an assistant at Wisconsin, Kansas, Montana and USC.
Since arriving in Raleigh Doeren has led Pack football to 5 consecutive bowl's (2014-2018). In 2017 and 2018 Doeren has led the team to back-to-back 9 game wins.
"I'm grateful for the commitment and support NC State has provided to my family and I," said Doeren. "This University and community are home to us, we're excited with what we're building with NC State football and I look forward to continuing to lead this program."
Pack Football Extend Doeren
Doeren has unquestionably helped elevate the program even in the highly competitive Atlantic Division of the ACC. Even with Clemson, Florida State, Syracuse and Boston College in the mix, NC State remains in the running.
In 2018 NC State sent 7 players to the NFL Draft. The NFL Combine invite 6 Wolfpack players this year. Recruits are seeing and hearing these numbers and it isn't lost on them. It appears to be paying off as Doeren's has nabbed a Top 25 recruiting class for 2019.
Jim Quist is Managing Editor of ACC Nation, a member of FWAA (Football Writers Association of America) and ACSMA (Atlantic Coast Sports Media Association). In his pursuit of knowledge (and fun) he is enrolled in the Beer Brewer Professional Certificate program at the University of Richmond.
---
---
---
Follow ACCNation.net on Twitter, Instagram and Facebook.