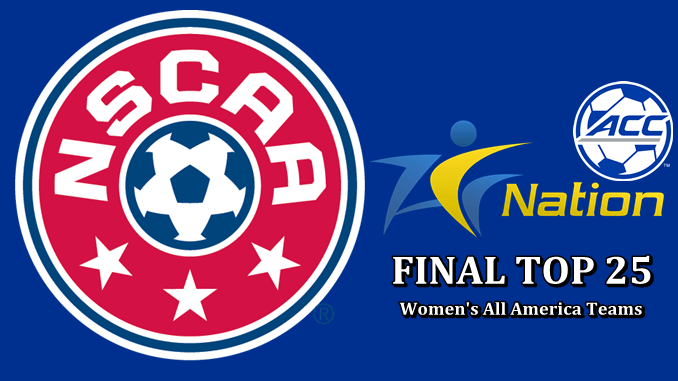 NSCAA Final Women's Soccer Top 25
ACC Finishes With Seven In Poll
The NSCAA Final Women's Soccer Top 25 poll features seven ACC teams.
North Carolina, by virtue of their efforts in the NCAA Championship, place the Tar Heels at the top of ACC teams in the poll.
The Tar Heels fell short of making it into the championship match in a 1-0 semifinal loss to West Virginia.
With a solid defensive effort that held the Mountaineers scoreless until the 74th minute, North Carolina locks down #4 in the final poll.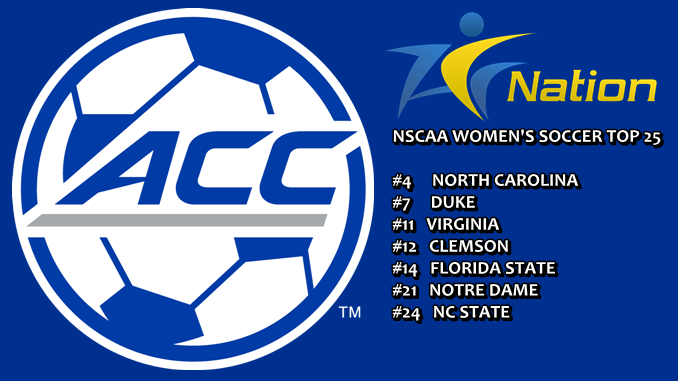 Duke also stymied West Virginia losing 1-0 in their NCAA quarterfinal match with the Mountaineers. The Blue Devils finish with a top 10 final ranking.
Top seed West Virginia fell to #2 seed USC in the NCAA Women's Soccer Championship. The final, 3-1.
---
NSCAA Women's Soccer Top 25 – The Final Poll
---
NSCAA All America Teams
Players from five ACC teams made the NSCAA Division I Women's Soccer All America Teams.
FIRST TEAM
Cassie Miller, Florida State
Christina Gibbons, Duke
Alexis Shaffer, Virginia
SECOND TEAM
Kirsten Crowley, Florida State
THIRD TEAM
Natalia Kuikka, Florida State
Catrina Atanda, Clemson
Bridgette Andrzejewski, North Carolina
[poll id="3″]