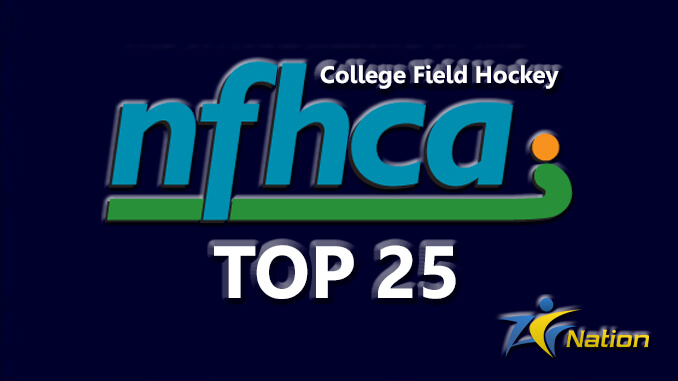 NFHCA Field Hockey Top 25
Seven of the top 12 teams in this week's NFHCA Field Hockey Top 25 hail from the ACC. Duke continues to lead the way for the conference in the polling.
With a solid 43 of 45 first place votes, Connecticut is once again the top ranked collegiate field hockey team in the Penn Monto Division I Coaches Poll.
The Blue Devils play the spoiler for a lock on first place for the Huskies and capture two of the votes.
Virginia drops a spot this week but remains in the top 5 of the poll along with North Carolina.
Syracuse and Wake Forest both moved up in the rankings. The Orange grabbed two spots while the Demon Deacons added three spots in the poll.
This week's ACC Field Hockey Offensive Player of the Week honors go to Syracuse's Laura Hurff.  The Defensive Player of the Week honors belong to two players, North Carolina's Ashley Hoffman and Syracuse's Borg van der Velde.
Hurff picked up her first game winning shot as Syracuse bumped off #2 Duke, 2-1. The shot came with under 10 minutes in the match. It's her fourth goal on the season.
The Tar Heels leading scorer with 9 goals and 23 points, Hoffman played a key defensive role as North Carolina shut down the nation's top scoring offense, #3 Virginia, 4-0. Hoffman also teased in a penalty corner shot putting her team up 1-0 at half.
Helping to lock in a upset win over Duke, Syracuse's van der Velde, a freshman goalie, made the save on a penalty stroke for the Orange at under three in regulation. Her play at goal locked down Duke on offense in the final 64 minutes of the match.
---
NFHCA Field Hockey Top 25 – The ACC
---
#2     Duke
#4     Virginia
#5     North Carolina
#7     Syracuse
#10  Boston College
#11   Louisville
#12   Wake Forest
---
NFHCA Field Hockey Top 25 – The Schedule
---
Friday
Wake Forest at Duke  6:00p E  ACC Network Extra
Northeastern at Boston College  6:00p E  ACC Network Extra
Saturday
Virginia at Syracuse  1:00p E  ACC Network Extra
Louisville at North Carolina  1:00p E  ACC Network Extra
Sunday
Drexel at Syracuse  1:00p E  ACC Network Extra
Wake Forest at James Madison  1:00p E
Boston College at Boston University  1:00p E
North Carolina at VCU  1:00p E
Miami(OH) at Duke  1:00p E  ACC Network Extra
---
NFHCA Field Hockey Top 25 – ACC Nation Podcast