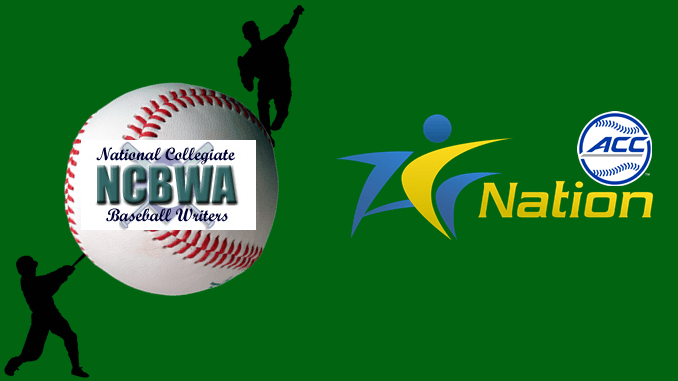 NCBWA Baseball Top 30
It's down to just five ACC teams in this week's NCBWA Baseball Top 30. Florida State gets bumped out of the poll after a multi week downward spiral.
The Seminoles, were a preseason top 5 pick that reached as high as #3 in mid March. FSU saw their fortunes turn to mud following a 1-0 loss to rival Florida.
It's been a steady decline from thereon out as the team has been struck by, among other things, error bugaboo's.
Louisville continues to lead the conference but are feeling some heat from North Carolina. The Tar Heels pick up two spots to land right behind the Cardinals.
Clemson continues to hold steady in the poll but may find themselves getting dinged next week. The Tigers dropped two out of their three game series with Florida State.
Virginia appears to building some late season momentum. Just in time as the ACC Baseball Championship begins to rise on the horizon. The Cavaliers move up three spots this week.
Wake Forest may be the team to keep an eye on in the conference at this point. The Demon Deacons move up six places in large part due to their most recent series with Louisville. Though only winning one out of the three games in the series, the narrow margin of victory for the Cardinals didn't go unnoticed.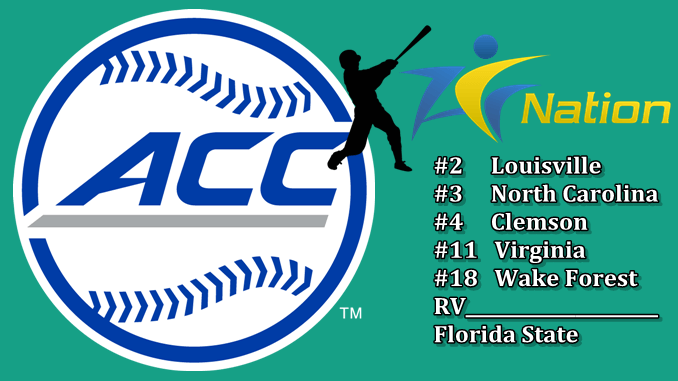 Florida State drops from #28 last week into the Receiving Votes category in this week's poll.
---
A Closer Look At The Conference
---
A look at the top three teams in each division of the ACC finds Louisville, Clemson and Wake Forest atop the Atlantic.
Over in the Coastal, North Carolina takes the top spot with Virginia and Miami rounding out the leaders.
Louisville (as of April 19) carries a 15-3 conference record while Clemson is 14-4 and the Demon Deacons, 12-6.
North Carolina currently sits at 14-4, Virginia at 10-8 and Miami holds at the .500 mark with a 9-9 conference win-loss record.
A quick glance at stats finds the ACC's top 3 batting averages are owned by Virginia's Adam Haseley at .411, Louisville's Brendan McKay at .398 and Wake Forest's Jonathan Pryor at .384.
The top 3 ERA's in the conference belong to Louisville's Brendan McKay at 1.19, North Carolina's J.B. Bukauskas at 1.40 and Miami's Jeb Bargfeldt at 1.69.
Coming up on the schedule this week are two interesting three game series.
First, up and coming Wake Forest goes head to head with Clemson.
Then, cross state rivals, Florida State and Miami see if they can shake off some of the dust on their programs.
---
---
The ACC Baseball Championship gets underway in Louisville, May 23-28.  Games up through the semifinals will be televised/streamed on RSN and ACC Network Extra. The championship will air on ESPN2.
The Road To Omaha begins on Monday, May 29 with the selection of 64 teams, 31 of whom are automatic qualifiers.
Making plans? The NCAA Baseball College World Series at TD Ameritrade Park in Omaha gets underway June 17.