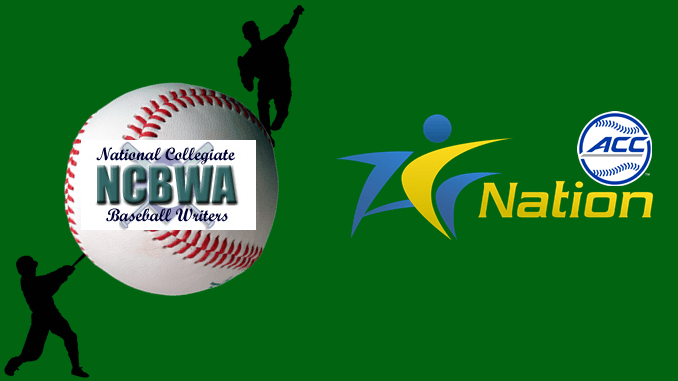 NCBWA Baseball Top 30
After sitting atop the NCBWA Baseball Top 30 for two weeks, Louisville drops this week in the poll.
Six teams from the ACC are ranked this week and that includes a debut for one team.
Clemson and Virginia had the most movement among ACC teams.
The Tigers crack the top 5, moving up three places.
The Cavaliers are showing signs of rebounding from a rocky patch as they gain four spots this week.
Louisville drops one spot, losing the #1 spot in the poll that they've held for two weeks. After dropping a non-conference game to unranked Cincinnati and the front end of a weekend series with unranked NC State, the Cardinals get dinged.
North Carolina and Florida State both move up two notches and are withing the top 10.
And, after lurking just outside the poll, Wake Forest debuts this week.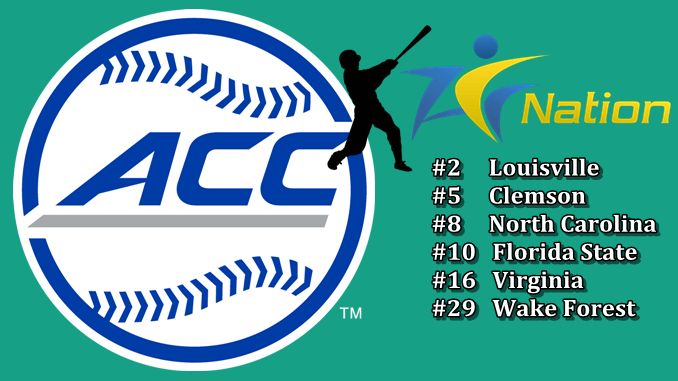 The new number one, flip flopping positions with Louisville, is Oregon State. Also at the top of the NCBWA Baseball Top 30, Texas Tech, TCU and Clemson.
---
The Rest Of The Game
---
Four teams in the Atlantic have better than .500 in conference records thus far, Louisville, Clemson, Florida State and Wake Forest.
In the Coastal, only one team meets that standard, North Carolina. Virginia and Pitt are two and three in the division and are under .500 when it comes to in conference play.
Across the conference here are the stats leaders on offense.
Brendan McKay  .412 Batting Average
Gavin Sheets  40 RBI's
Jack Owens  44 Hits
Joey Bart, Sam Fragale and Johnny Aiello  9 HR's
There's a five way tie for pitching wins, the ERA leader is Louisville's Nick Bennett and North Carolina's J.B. Bukauskas leads with strikeouts at 60.
The end of the month schedule for ACC teams features non-conference matchups before breaking back into conference action in April.
Two critical three game series are slated for this weekend.
Louisville heads to Virginia in what will be a test for both teams. The Cardinals have had a small dip in performance lately and this matchup will challenge how quickly they can rebound. The Cavaliers are fighting their way through the season. Wins against Louisville will go a long way toward building the confidence of a young team.
North Carolina takes on Florida State at home and it should be a Battle Royale. The Tar Heels continue to find their mojo and could benefit greatly with a sweep. The Seminoles took a tumble and to fully recover, taking two of three in this series is a must. Anything less could send Florida State into a tail spin.