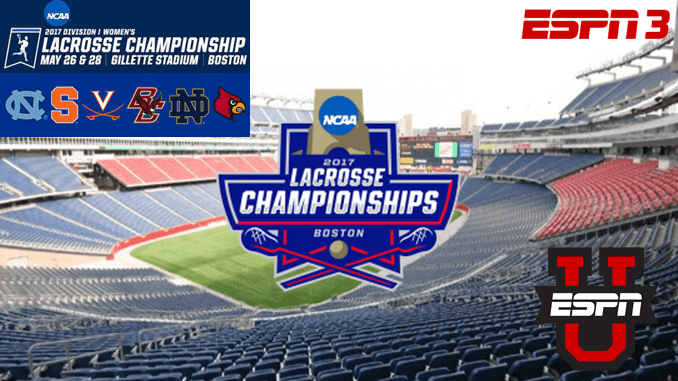 NCAA Women's Lacrosse Championship
Six ACC teams have been selected to participate in the 2017 NCAA Women's Lacrosse Championship among a total of twenty six invites.
The selection committee tabbed two conference teams for seeds in the bracket, North Carolina at #2 and Syracuse at #6. Both schools will also serve as venues for first and second round action, at a minimum.
At large bids have gone to Notre Dame, Louisville, Boston College and Virginia, each of which begins first round action on Friday, May 12.
As seeds, the Tar Heels and Orange bypass the first round and will possibly face an ACC opponent in their opening game.
Virginia will take on Elon at 5:00p E in Chapel Hill. The winner will then move on to face the defending national champions, North Carolina.
Boston College faces Canisius in the opening game at 4:00p E in Syracuse. The winner will have a shot at Syracuse in second round action.
Notre Dame has a tough first round opponent in Cornell with that game schedule for 7:00p E at Princeton. With a win, the Irish would have the dubious honor of facing #5 Princeton.
Louisville and James Madison will go head to head in the opening round with a game scheduled for 6:00p E at Penn State. The winner takes on a solid #4 seed in Penn State for the second round.
The top seed in the tournament is Maryland who also finished atop the national rankings.
---
IWLCA Lacrosse Top 20
---
Eight sites will host the first and second round competition on Friday, May 12 and Sunday, May 14.
Four quarterfinal games are scheduled for Saturday, May 20 or Sunday, May 21.
Both the 2017 NCAA semifinals and championship will be played at Gillette Stadium near Boston.
The semifinals will will available on ESPN3 with the championship on ESPNU on Sunday, May 28 at 11:00a E.