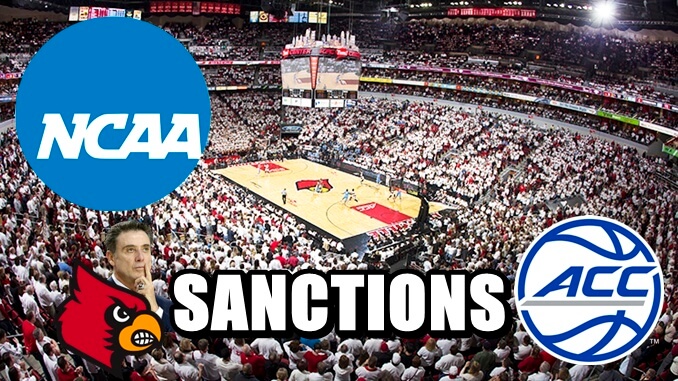 NCAA Sanctions Louisville Basketball
The Division I Committee on Infractions (COI) panel has handed down their findings following their investigation and the NCAA sanctions Louisville basketball as follows:
Four Year Probation For The University
Rick Pitino Suspended For The First Five ACC Regular Season Games
Ten Year Show Cause Order For The Former Operations Director
One Year Show Cause Order For The Former Program Assistant
Vacate Basketball Records – December 2010 To July 2014
Men's Basketball Scholarship Reduction
Men's Basketball Recruiting Restrictions
$5,000 Fine
Louisville Returns Conference Revenue Sharing From NCAA Men's Basketball Champion Appearances 2012 – 2015
Now for the details surrounding each of these sanctions.
The NCAA will issue a public reprimand and censure of Louisville. The four year probationary period will run from June 15, 2017 until June 14, 2021.
The NCAA has suspended Louisville head coach Rick Pitino for the first five ACC games. As part of his suspension, Pitino may not be in the arena in which the games are being played. He is forbidden from having contact with his staff or student-athletes. In addition, Pitino is not allowed to participate in any activities such as team travel, practice, video study and team meetings.
During the ten year show cause period, the former operation director may not be be engaged in athletically related duties. He cannot have contact with prospects or their families. This applies to all NCAA member schools.
This period runs from June 15, 2017 through June 14, 2027.
The one year show cause order requires that any NCAA member school that wants to employ the former program assistant shall appear before the COI. This meeting will determine if he will be subject to show cause provisions.
---
Read – 2017 Louisville Public Infractions Decision
---
Louisville will have basketball records expunged in which the student-athletes competed while ineligible. The university will provide a written report containing the games impacted to the NCAA media coordination and statistics staff within 45 days. The win loss record from December 2010 to July 2014 will be erased.
The Cardinals will reduce men's basketball scholarships by two during the 2016-2017 year (self imposed).
Moving forward, the university must reduce scholarships offered over the four year probationary period by four. Louisville may take the reductions during any year of that period.
A ban on men's basketball coaches travel during the April 2016 recruiting period. This resulted in a reduction of 30 recruiting opportunities (self imposed).
---
NCAA Sanctions Louisville Basketball – Short Leash
---
A  ban on men's basketball coaches travel during the July 2016 recruiting period by six days (self imposed).
A reduction in the number of official visits to a total of 10 during the 2015-16 year. Additionally, a total of 16 visits during the 2016-17 and 2017-18 years (self imposed).
Prospects of the program on unofficial visits many not stay overnight in any campus dorms or school owned property during the probationary period.
Disassociate with the former operations director (self imposed).
A $5,000 fine (self imposed).
Louisville must also return to the NCAA the money received via conference revenue sharing. This applies to their appearances in the 2012, 2013, 2014 and 2015 NCAA Division I Men's Basketball Championships. Future revenue distributions anticipated from those tournaments will be withheld by the conference and forfeited to the NCAA.
The Cardinals implemented a post season ban for the 2015-16 season (self imposed).
---
The Findings
---
A former Louisville director of basketball operations acted unethically when he committed serious violations by arranging striptease dances and sex acts for prospects, student-athletes and others.
The head men's basketball coach violated NCAA head coach responsibility rules when he did not monitor the activities of his former operations director.
The former operations director was integral to on-campus recruiting and regularly interacted with visiting prospects.
Rick Pitino hired him and placed him in Minardi Hall. This is the dorm where the basketball team lived. Therefore, it was his responsibility to make sure it was run properly and watch for any potential NCAA violations. By his own admission, the head coach and his assistants did not interact with prospects from 10 p.m. until the next morning.
The panel noted that the head coach essentially placed a peer of the student-athletes in a position of authority over them and visiting prospects. He assumed that all would behave appropriately in an environment that was, for all practical purposes, a basketball dorm.
---
NCAA Sanctions Louisville Basketball – Out Of Hand
---
This arrangement played a role in creating a location where the former operations director's activities went undetected. The operations director arranged adult entertainment and/or sex acts.
The list of those involved includes 15 prospects, three enrolled student-athletes, a friend visiting with one of the prospects and two non scholastic coaches. At least seven, and perhaps as many as 10, of the 15 prospects were under the age of 18 at the time. None of the prospects visiting campus knew that the activities would occur. None of them expected the activities to occur on their visits. Some of them expressed surprise and discomfort at what transpired.
The COI panel noted the violations were severe and intended to provide a substantial recruiting advantage for the school. The panel indicated they had not previously encountered a case like this.
"Without dispute, NCAA rules do not allow institutional staff members to arrange for stripteases and sex acts for prospects, enrolled student-athletes and/or those who accompany them to campus," said the panel in its decision.
---
Who's Responsible?
---
The head coach failed to monitor the former operations director when he created the residential environment in which the violations occurred. He trusted the former operations director to follow the rules, and delegated monitoring of the former operations director to his assistant coaches without appropriate oversight.
Rick Pitino noted his assistant coaches were responsible for monitoring the former operations director. When asked during the investigation, the assistant coaches were unaware of this responsibility. The panel noted that a head coach does not meet his monitoring responsibility by simply trusting an individual to know NCAA rules and to do the right thing.
The former operations director violated multiple NCAA rules when he arranged the activities, including the violation of ethical conduct rules. The panel noted those rules require all staff members to act with honor and dignity and he created an environment that has no place on a college campus.
"NCAA members agree that schools must provide a safe, healthy and positive environment for their student-athletes, not only academically, but in all facets of their lives. The former operations director, the individual entrusted to keep order at Minardi Hall, created an environment that has no place on a college campus and was directly at odds with college athletics and higher education."
The former operations director also violated NCAA ethical conduct rules when he did not cooperate. He refused to consent to interviews or provide requested records to the NCAA enforcement staff during the investigation.
A former program assistant also failed to fully cooperate in the investigation. Investigators requested phone records for which he refused to provide.
---
---
The members of the panel who reviewed this case are William Bock III, attorney in private practice; Carol Cartwright, chief hearing officer for the panel and president emeritus at Kent State and Bowling Green; Greg Christopher, athletics director at Xavier; Thomas Hill, senior policy advisor to the president of Iowa State; Stephen A. Madva, attorney in private practice; Joseph D. Novak, former head football coach at Northern Illinois; and Larry Parkinson, director of enforcement for the Federal Energy Regulatory Commission.
Associate Director of Public and Media Relations, NCAA
Some editing and additional information provided.