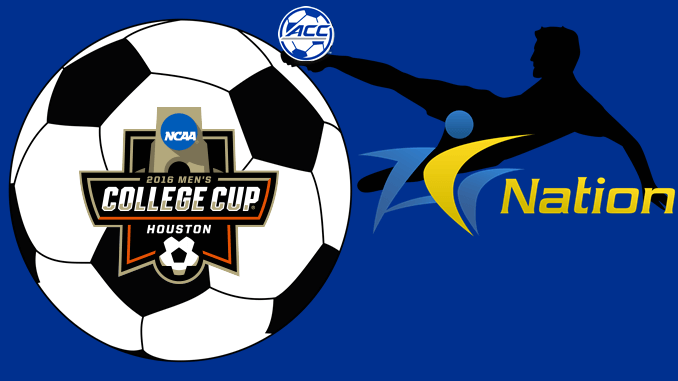 NCAA Men's Soccer. Here Come The Quarterfinals.
NCAA Men's Soccer Quarterfinal action is set and five ACC teams are still in the hunt. Only four have a shot at moving forward.
Looking back at the windfall of ACC teams that made it into the NCAA Men's Championship, nine in all, the odds have been in favor of the conference grabbing a title.
Virginia Tech and Boston College began play in the first round.
The Eagles knocked off Fordham in the first and made it to the second round before falling to Albany.
Meanwhile, the Hokies defeated East Tennessee State, Charlotte and Indiana in the first through third rounds. Unseeded Virginia Tech will face number two seed Wake Forest in the quarterfinals Friday.
The remainder of the ACC teams received a first round bye.
Syracuse bumped off Dartmouth in the second before falling prey to the Tar Heels.
Virginia defeated Vermont in the second and then fell to Stanford in the third round of play.
Notre Dame started with a second round victory over Loyola Chicago and suffered a loss to Louisville in the third.
The five teams moving forward include North Carolina, Louisville, Wake Forest, Virginia Tech and Clemson.
---
NCAA Men's Soccer Bracket
---
The Schedule
Number nine seed North Carolina faces off with Providence on Friday, December 2 at 7:00p Eastern.
Same day, same time, finds number three seed Clemson taking on number six seed Denver.
On December 3, at 5:00p Eastern, Virginia Tech takes on number two seed Wake Forest.
That evening at 7:00p, number four seed faces off with number five seed Stanford.
Television coverage had not been announced when this story was being published.
The NCAA Men's Soccer College Cup will be played at BBVA Compass Stadium in Houston , December 9 and 11.
The semifinals will be played at 6:00p and 8:45p Eastern on Friday.
The title game on Sunday at 2:00p Eastern.
Both the semifinals and championship will be televised on ESPNU.