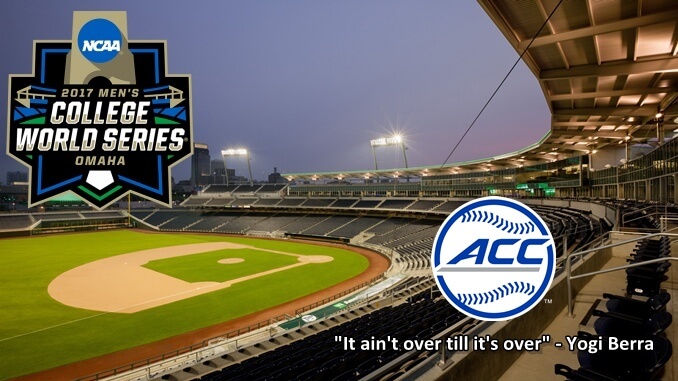 NCAA College World Series
The NCAA College World Series is just about ready to begin Bracket Play. However, there's one team missing from the lineup.
It all started with seven ACC teams in First Round action of the tournament. Three teams advanced to the Super Regionals, Louisville, Florida State and Wake Forest.
The Cardinals delivered the knockout blow to cross state rival Kentucky, 5-2 in the first game. Then, Louisville delivered a 6-2 win in game two to send them into Bracket Play.
Sam Houston State offered a challenge to the Seminoles in their first match. Florida State met the challenge and walked away with a 7-6 victory.
Florida State exercised their guns with a 19-0 shellacking in the second to lock them into Bracket play.
In Super Regional play, Wake Forest had the dubious task of knocking off perennial powerhouse Florida. The Demon Deacons took the Gators to task in their first game before dropping, 2-1 in 11 innings.
Inclement weather forced the suspension of the second game with the Deac's up 5-4 in the bottom of the fifth inning.
Game two continues today (Monday) at 1:00p E. If necessary, a third and final game against Florida will begin an hour after the conclusion of game two.
Which teams have moved on to Bracket Play?
BRACKET ONE
Louisville
Oregon State
Texas A&M
CSU Fullerton
BRACKET TWO
Florida State
Wake Forest or Florida?
TCU
LSU
Louisville will face Texas A&M and Florida State is slated to meet LSU in their opening games.
Bracket Play is double elimination. The winner of the brackets heading to the best of three College World Series Championship.