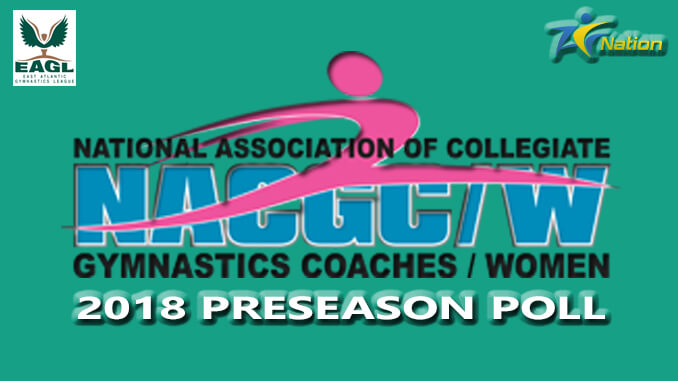 NACGC Women's Gymnastics Preseason Poll
Derek Galvin's women's gymnastics team at North Carolina finished fourth in the 2017 EAGL Championships. This year's squad returns the 2017 EAGL Gymnast of the Year, Morgan Lane and the EAGL Rookie of the Year, Khazia Hislop. Other key role players include Madison Nettles, Katelynn Hedelund and Emma Marchese.
The Tar Heels have been picked to finish fifth in the EAGL Preseason Poll but that's not how voters in the National Association of Collegiate Gymnastics Coaches see it. Among the three ACC members of the East Atlantic Gymnastics League, North Carolina is the top pick in the national preseason poll.
NC State, led by head coach Kim Landrus, returns Chelsea Knight, Paris Phillips and Drew Grantham to the team. The trio are expected to lead the Wolfpack in competition this season.
Samantha Snider's Pitt Panthers are looking to Taylor Laymon, Brittany West, Lucy Brett and Alecia Petrikis to be team leaders.
Last year's EAGL Champion George Washington has been voted as the squad to beat in the league. The Colonials lead EAGL members in the NACGC poll.
Overall, Oklahoma gets the preseason nod as the top women's gymnastics team in the nation in the poll.
---
---
EAGL Team Rankings (NACGC)
#21   George Washington
#36   North Carolina
RV    NC State (#37)
          New Hampshire (#39)
          Pitt (#41)
EAGL Preseason Poll
1. George Washington University – 34 points (4 first-place votes)
2. University of New Hampshire – 29 points (1 first-place vote)
3. North Carolina State University – 23 points
4. University of Pittsburgh – 18 points (1 first-place vote)
5. University of North Carolina – 15 points
6. Towson University – 7 points
---
NACGC Women's Gymnastics Preseason Poll
---
League competition gets underway this weekend as George Washington visits Kentucky tonight (Friday). Among ACC squads, NC State is at Northern Illinois on Sunday.
North Carolina opens their schedule as host to the Wolfpack next Friday (January 12) and Pitt hosts Oregon State on Saturday, January 13.
Visit the following link for the complete 2018 EAGL schedule.