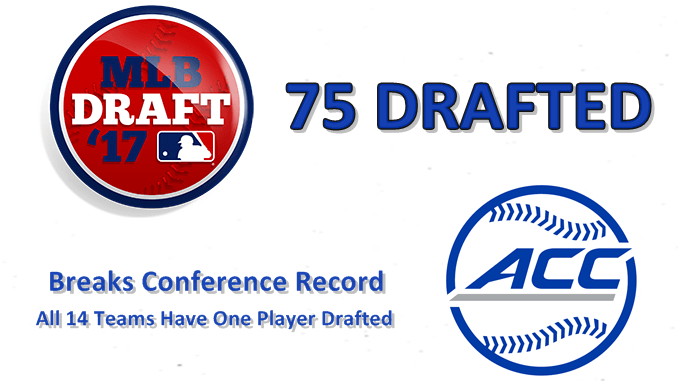 MLB Draft Wrap
Three days of the MLB Draft nets the ACC the highest number of players ever selected. With the Wednesday finale, it's time for the MLB Draft Wrap.
All fourteen teams in the conference had at least one player selected. Clemson and Florida State led the ACC with 9 apiece. Three other teams had 8 players selected. Wake Forest, NC State and Louisville, who had the honor of having the top draft pick.
On opening day, Monday, the ACC had five first round picks along with Competitive Round A to make it six.
The top pick out of the ACC, Louisville's Brendan McKay, is headed to the Tampa Bay Rays. McKay was the fourth pick in round one.
Overall, North Carolina had three picks and Virginia two in that initial grouping. As the draft moved into the second round on day one, the list of teams contributed broadened. Wake Forest added two, Louisville picked up their second, NC State contributed and Virginia tallied their third pick.
---
ACC Players – MLB Draft Wrap
---
Four MLB teams selected five ACC players during the draft. The Angels, Marlins, Yankees and Rays topped the list. They were among 27 teams out of 30 drafting an ACC player.
Listen To This Week's Episode