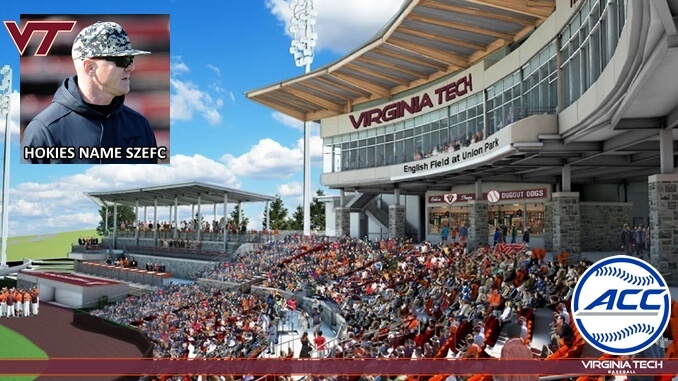 Hokies Baseball Sends Message-
When it comes to hiring decisions, Virginia Tech Athletic Director, Whit Babcock is all about about raising the stature of the school. With his most recent move, the headlines shout, Hokies baseball sends message.
Babcock recently announced the hiring of Maryland head coach John Szefc (Reaction). The hiring just raised the stakes in the ACC and significantly. You can effectively add one more competitive team to the mix once Szefc puts his mark on the program.
Szefc led the Terps to three NCAA appearances. In his 12 seasons as an NCAA head coach he has delivered ten with 30 or more wins. Among those postseason appearances, two Super Regionals.
In addition to coaching at Maryland, Szefc took Marist to four conference championships and four NCAA Regional apprearances.
---
NCAA College World Series
---
His arrival at Virginia Tech is well timed. Virginia Tech has invested $18 million in renovating English Field at Union Park. The facility will be ready in time for the 2018 season.
The new facility  includes a new clubhouse with spacious locker room, player lounge and team, equipment and video rooms. Official capacity will be close to 4,000.
"The opportunity to return to the ACC and have our team play in an amazing baseball facility simply added to the appeal of coaching the Hokies", said Szefc.
A total of 91 players that have been coached by Szefc since 1997 have been drafted or signed professional contracts.