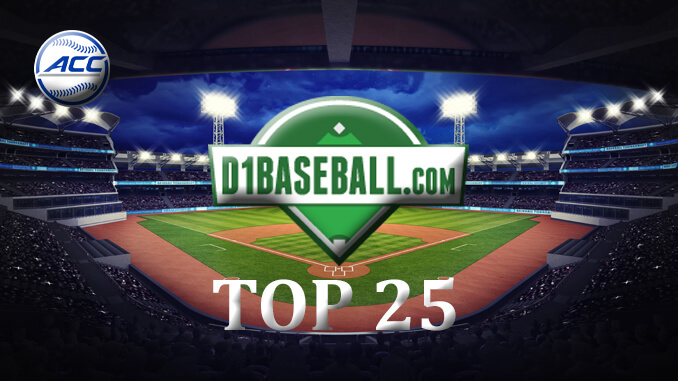 Florida State Tops, Clemson, Virginia Rise
If  you ever expect the dust to settle in college baseball you'll be very disappointed. ACC baseball teams are about to wade out of the warm up phase of non-conference action and head deep into the quick sand of conference competition. This week's D1Baseball Top 25 poll finds Florida State leading ACC teams with Clemson and Virginia ascending.
The Seminoles are leading the Atlantic Division with a 12-0 overall (as of 3/6/18) record. Just a game away is Louisville at 11-0 while Clemson is at 10-1 and NC State, 10-2. Notre Dame tops the over .500 gang with a 5-4 record.
Boston College and Wake Forest round out the teams in the Atlantic.
Over in the Coastal Division of the ACC Duke and Pitt are the leaders with overall records of 9-2. Georgia Tech comes in at 8-3, Virginia at 8-4 and North Carolina is 7-5.
Miami and Virginia Tech fill out the card in the Coastal.
---
Florida State Tops, Clemson, Virginia Rise
---
Before taking a look at the new Top 25, let's dip into the most recent NCAA Baseball RPI (as of 3/5/18). At this point in the season teams may not fair well as they play against non-conference opponents. Why? Coaches may be looking for their best on-field combinations or test driving new arms in the bull pen, so a loss or two isn't unusual. In other words, take this early look with a grain of salt. *For those unfamiliar with the ACC, Syracuse does not field a team.
NCAA RPI 
#3     Florida State
#7     Clemson
#13   Pitt
#19   Georgia Tech
#22   Notre Dame
#27   Duke
#34   North Carolina
#54   NC State
#91   Louisville
#96   Boston College
#107 Miami
#131 Virginia Tech
#175 Virginia
#199 Wake Forest
Now, let's look at how these same teams are ranked in the poll.
#4     Florida State –

#12   Clemson

Up 2

#13   Louisville –
#17   Virginia

Up 2

#20   North Carolina –
The ACC opens up on Friday as Boston College travels to NC State for a best of three series with the Wolfpack. Check out the baseball schedule at theACC.com. Games will be streamed and available through ACC Network Extra.