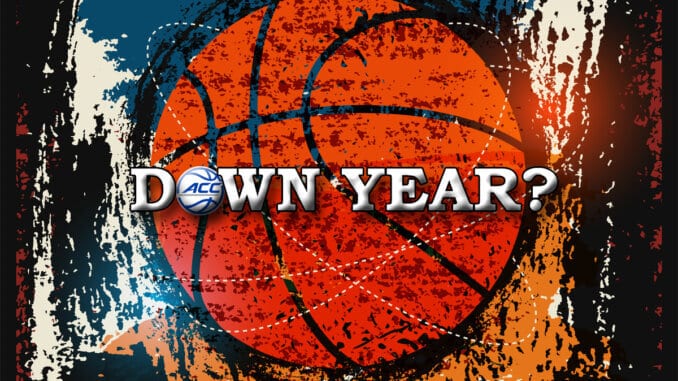 Jim Quist @ACCTheQ –
Football hasn't even begun and the countdown clock for college basketball is underway. The only moaning you'll hear out of hoops fans is, why can't it get here sooner? Slow roll it ACC fans as this could be a down year for a majority of the conference. Well, at least that's what national pundits are chumming thus far. True, in the latest ESPN Way-Too-Early Top 25 there are only four (count 'em) teams. And, there's no No.1 from the conference for the first time in years.
In fact, we have to step down five rungs on this ladder to find the first ACC team. Yes, now we know how it feels to always be the bridesmaid but never the bride. Or, something like that.
At the top and without any wavering among early polling remains Michigan State. The top teams all have a throwback feeling to them. The Spartans, Kansas and Kentucky grab the top three spots. Disturbing the college basketball universe is Florida at No. 4. Oh well, I guess nothings perfect, right?
When it comes to the ACC the first nod goes to Louisville as the team to beat. Chris Mack and his coaching staff have done a great job of scraping up the remnants, recruiting and doing a super fast rebuild. Not only have players bought in but it appears that the fans have pretty much forgotten about, what's his name. I couldn't add, already. That comes when Mack delivers in the NCAA Tournament.
Down Year
The Cardinals may have lost a critical piece on the roster to a shoulder injury (David Johnson) but depth is stepping up. With three returning players in Jordan Nwora, Perry, McMahon and Sutton plus grad transfer Kimble. We shouldn't forget five star freshman Samuel Williamson. This year has excitement written all over it.
Mike Krzyzewski has the magic touch with one and done freshmen. He'll need it this year as the talent level isn't nearly the same as last season. One saving grace is the return of Tre Jones. He'll be called on to carry the water for the Blue Devils until the freshmen settle in for the long haul.
---
Panthers And Cardinals In Volleyball Preseason Top 25
---
Duke will have some critical games early in the season against Kansas and Michigan State. If they can pull off wins against one or both it will speaks volumes about the talent on the team. Should they stumble against both teams, especially if it's ugly, the struggle begins to deliver in March. I'd like to be an optimist here but this feels like an off season for Duke to me.
Rebuild Or Reload
What's going on in Chapel Hill? A Roy Williams rebuild of the Tar Heels. Toss in a challenging season for good measure and North Carolina may struggle to find their way this season.
The guy to keep an eye on is Cole Anthony. If there ever was a lynch-pin player, it's Anthony. He'll need to bring his court smarts, athleticism and leadership to bear on this team to head them in the right direction. I keep waiting for the reemergence of the Tar Heels, in part because a good friend believes the Sun rises and sets on them. The other reason is it feels like it's their time. It's similar to a life cycle of cicada's. Therefore it's time to emerge Tar Heels.
---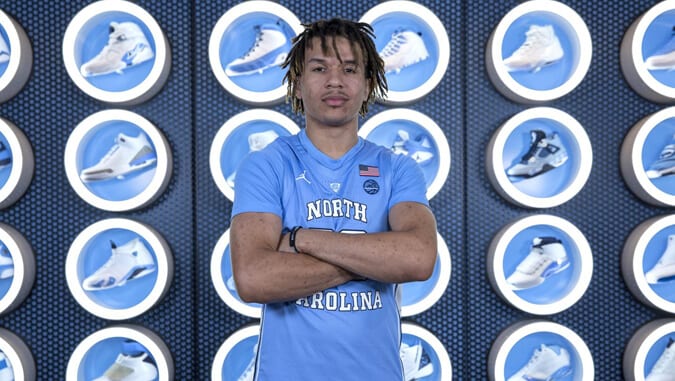 ---
Listened To ACC Nation Radio Lately?
---
Meanwhile, in Charlottesville the high hasn't worn off from winning the 2018-2019 national championship. Pretty much anytime I'm around a Virginia fan who's in a funk I simply bring up that tournament run. It's amazing how things get all better.
The Cavaliers are the last of the ACC teams in this poll. Tony Bennett is reloading but there enough new names to raise questions. You know the regulars but how about Caffaro, Stattmann (this will be fun to play with) and JUCO transfer Woldetensae. The addition of freshman Casey Morsell may add some spice to the starting lineup.
ESPN Way-Too-Early Top 25 – ACC
#5 Louisville
#6 Duke
#8 North Carolina
#15 Virginia
Keeping An Eye Out
The Surprise? No one else from the ACC in the Top 25. For that matter, no other conference teams are in line to slide into the rankings. At least at this point, according to ESPN.
Overall, the conference has leveled off a bit in talent, or at least known talent. Seeing how players fit in or have progressed since last season will be the telling tale. Will it be a down year? Only from the standpoint of having 7 plus teams in the early rankings. What matters most is who makes it to the NCAA Tournament.
---
Tate Martell's Nightmare: Sports Blogger
---
Who are the teams we should be keeping an eye on? Notre Dame, Florida State, Miami and Pitt will help keep the 4 teams in this poll honest this season. Count on at least two of these teams breaking into the early season rankings after the chaff delete themselves.
---
Jim Quist is Managing Editor of ACC Nation and Co-Host of ACC Nation Podcast. He's a member of NSMA (National Sports Media Association), FWAA (Football Writers Association of America) and USBWA (U.S. Basketball Writers Association). He is enrolled in the Beer Brewer Professional Certificate program at the University of Richmond. Follow him on Twitter @ACCTheQ
---