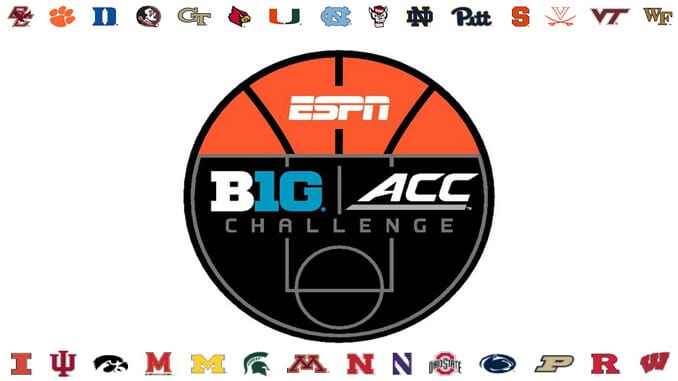 Blame it on Global Climate Change. December is going to experience a heat wave and it's definitely man-made. The Big Ten/ACC Challenge schedule is out and some of the match-ups are made in heaven. This year's action runs from Monday, December 2 to Wednesday, December 4 with 14 teams from each conference playing for the Commissioner's Cup. When it comes to talent both conferences are loaded. Get ready for some hot basketball in December.
But, aren't there 15 ACC teams, you ask? Astute and correct as ever in that observation. Per usual, one team sits out and this year the honors go to Virginia Tech. Not to worry Hokies fans as there will be plenty of distractions for you during this time frame as well.
All of the games will be carried on the ESPN family of networks and streamed via the ESPN app. The new ACC Network will feature news and highlights of the Challenge, too.
This year's Challenge features 14 teams that were in the 2019 NCAA Men's Basketball Championship. The team lineup includes national champion Virginia and Michigan State who reached the Final Four. Also, Duke and Purdue who were among the Elite Eight plus Florida State, Michigan and North Carolina who made it to the Sweet 16.
December Heat Wave
First ever head to head matchups in the Challenge this year include:
Boston College – Northwestern
Florida State – Indiana
Georgia Tech – Nebraska
Iowa – Syracuse
Louisville – Michigan
Maryland – Notre Dame
Penn State – Wake Forest
Pitt – Rutgers
---
Enjoy live soccer, cricket, and more international sports for only $10/mo. with the World Sports pack.
---
Preseason Top 25 In The Challenge
The most recent college basketball rankings come from Sports Illustrated. How do Big Ten and ACC teams stack up?
#1 Michigan State
#3 Duke
#4 Louisville
#7 Maryland
#9 Ohio State
#11 Virginia
#14 North Carolina
#24 Michigan
Enticing enough? Well, not until you look at the schedule and that should whet your appetite.
---
---
Big Ten/ACC Men's Basketball Schedule
Monday, December 2
Clemson at Minnesota
Miami at Illinois
Tuesday, December 3
Boston College hosts Northwestern
Duke at Michigan State
Florida State at Indiana
Louisville hosts Michigan
Pitt hosts Rutgers
Syracuse hosts Iowa
Wednesday, December 4
Georgia Tech hosts Nebraska
North Carolina hosts Ohio State
NC State hosts Wisconsin
Notre Dame at Maryland
Virginia at Purdue
Wake Forest at Penn State
---
The Top Farmers' Market For Each ACC State
---
A complete time and network schedule will be released later.
The ACC leads the Challenge with a 12-5-3 record. The conference has won the event every year since 2015 with the exception of a tie in 2018. A complete time and network schedule will be released later.
---
Follow ACCNation.net on Twitter, Instagram and Facebook.