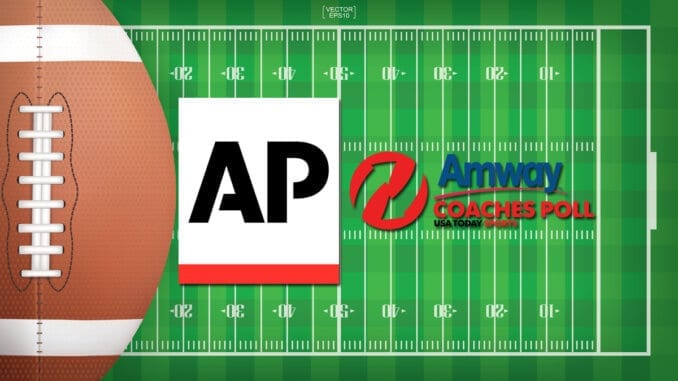 ACC Nation Staff @accnation –
After four weeks of college football things are beginning to come together for most teams. That still leaves one or two that are raising eyebrows and leaving everyone scratching their heads over. For the most part there were some really interesting games to watch over the weekend. There were some wins that, even if they were narrow, spoke volumes of where programs are or where they are headed. The come from behind wins that tells you a team has the ability to overcome adversity. This week, it's time to add one more ACC team to the rankings and you can attribute that to consistency.
Consistency, overcoming adversity and a win/loss record are just a small part of what is processed by voters in the AP Top 25 and USA Today Coaches' Poll. The top 3 teams in both polls are consistent and have clean records. It could be argued that Clemson and Alabama haven't had to overcome adversity. At least, so far.
Georgia, in their game against a fairly evenly matched Notre Dame, did. The Bulldogs and Irish were both facing an early threat to getting into the playoffs. One survived and proved to be the better team on that day. It's reflected in the rankings for Notre Dame while Georgia remains at No. 3.
---
Advertisement
---
Consistency
In this week's polling Wake Forest displayed consistency and thus they break into the USA Today Coaches' Poll. They're just a few votes shy of the AP Top 25.
---
ACC Nation Teams
| | | | |
| --- | --- | --- | --- |
| AP# | TEAM | USA TODAY# | TEAM |
| 1 | CLEMSON | 1 | CLEMSON |
| 10 | NOTRE DAME | 10 | NOTRE DAME |
| 18 | VIRGINIA | 18 | VIRGINIA |
| | | 24 | WAKE FOREST |
| RV | | RV | |
| 26 | WAKE FOREST | 43 | DUKE |
| 36 | PITT | | |
---
Freshmen – Will's World Of Football
---
The rubber hits the road this week as a number of teams are facing, 'are they for real' types of challenges. Among that list –
Duke @ Virginia Tech
Virginia @ Notre Dame
Wake Forest @ Boston College
NC State @ Florida State
The Blue Devils travel to Blacksburg to meet a so-so team that is struggling to find an identity. Duke, as noted, is picking up votes in the USA Today poll. These aren't 'homers' tossing out votes. It will be a challenge game both teams but more so for Virginia Tech.
Fuente, Foster and company need to prove themselves. A two score win here would go a long way to bucking up the confidence of players and fans. A loss and bandwagon fans depart Lane swearing never to return.
---
College Football
We've heard the term, 'trap game' tossed around when the narrative of the Virginia-Old Dominion game is given. Might this be a trap game for Notre Dame? Coming off an emotionally and physically exhausting game with Georgia, the Irish need to be careful not to let their guard down against the Cavaliers.
In the big picture, Notre Dame proved themselves on many fronts as being a top 10 team. When you make it to that level and with consistency, you're not to be taken lightly. Has Virginia made it to that level yet? That's to be decided not in our minds, on air or in print but rather on the field in South Bend.
---
Advertisement
---
We'll find out just how important consistency can be when Wake Forest travels to Chestnut Hill to take on Boston College. The Demon Deacons are consistently delivering on offense and have improved on defense, too.
The Eagles are more of a threat on offense with a multitude of weapons to choose from. The surprise this season has been a somewhat floundering defense. Boston College will have to find something (somebody) that works on the defensive side of the ball to stop a hurry up and go Wake Forest offense.
---
The ACC Heats Up
Then we find ourselves talking about two teams still looking for their consistency. NC State travels to a hot and muggy Tallahassee to face off with Florida State. The Seminoles have been struggling to find their rhythm. For all intents and purposes they appear to be finding it but at a painful snail's pace.
The Wolfpack are finding their way through a maze toward the prized cheese as well. Just when you think NC State have moved forward on offense, for that matter defense, they run into a wall and have to back track.
---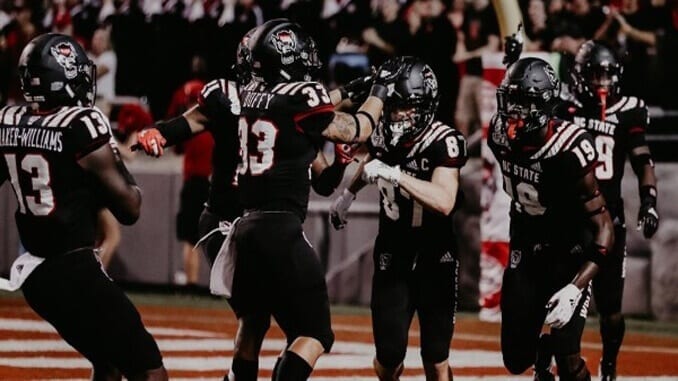 ---
This week's game between the Pack and Noles may be that moment where it all comes together for one or both teams. If it happens for both then we're in for a whale of a game.
---
ACC Nation on Twitter, Instagram, Facebook, LinkedIn And YouTube