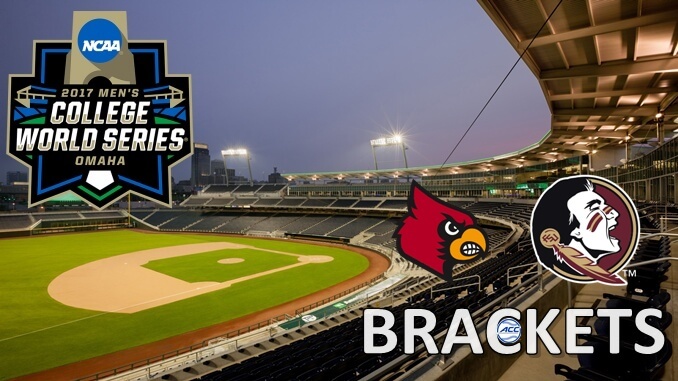 College World Series Brackets
This weekend, Louisville and Florida State begin their Omaha journey with the College World Series Brackets.
This will be the Cardinals fourth visit to the College World Series. When it comes to visits, they don't hold a candle to Florida State.
It's the twenty second visit for the Seminoles, who haven't been to Omaha since 2012. Out of all those visits, Florida State hasn't been able to lock down a national title.
Both ACC teams are playing lights out ball in the tournament. Though Florida State got off to a rocky start, they've since outscored opponents, 45-16. Louisville has played perfectly, winning five games with their eyes focused on a national title.
Who is the team to beat this year? Oregon State has a 21 game winning streak that began in late April. The ultimate question is, can they keep playing at that tempo or are they about to hit a wall?
The first test for the #1 seed Beavers will be against CSU Fullerton. The next match up may very well be that wall we referred to above. Florida State and #4 seed LSU battle it out in the other bracket match. Don't expect either team to lay down for Oregon State.
---
---
Bracket 1 action gets underway on Saturday, June 17 at 3:00p E with the Oregon St – CSU Fullerton game.
Game two will feature Florida State and LSU. That match up will be Saturday at 8:00p E.
ACC Nation's Chris Bond on Bracket 1. "Florida State has Oregon State in the mix but I think Bracket 2 has more balanced difficulty for Louisville. With TCU, Florida and Texas A&M it will be the more challenging of the two. An important footnote for Bracket 1 is that Oregon State just lost their best pitcher."
Louisville will face off with Texas A&M in the opening game of Bracket 2 on Sunday, June 18. The #2 seed Cardinals and Aggies begin play at 2:00p E in their double elimination round.
Game two will feature #3 seed Florida against #6 TCU. The Gators and Horned Frogs begin play Sunday at 7:00p E.
Coverage of the College World Series is available through ESPN.
The double elimination bracket play leads to the College World Series Championship best of three series. Game one is schedule for Monday, June 26 at 7:00p E.