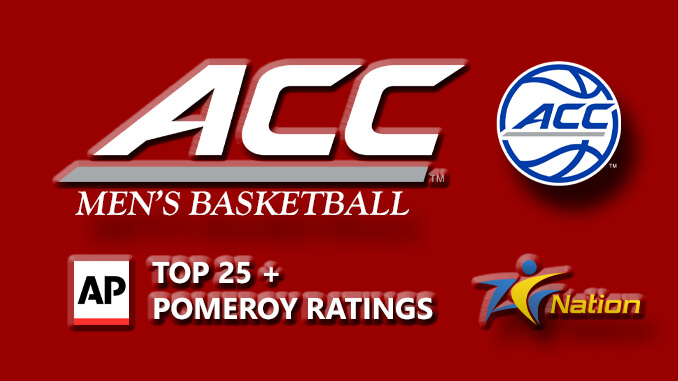 Cavaliers Still Tops, Tar Heels Got Game
AP Top 25 Down To Four ACC Teams
Virginia holds the lead in the ACC once again this week when it comes to AP Top 25 teams. A resurgent Tar Heels break back into the top 10 nationally with the biggest move of all conference teams.
Villanova continues to dominate the top spot in the Top 25. Voters in the poll have parceled out 63 of the 65 First Place Votes to the Wildcats. The remaining votes go to Virginia and Purdue.
Duke continues to exercise their offensive dominance and move up one spot in the poll. Coach K is still pondering his team's inability to produce on defense. He's hoping it all comes together when Virginia comes knocking on Saturday, January 27th. Home court advantage may not be enough if the Cavaliers defense throws the Blue Devils offense into a blender.
As mentioned, North Carolina has a significant move this week. Up five spots overall with solid wins over Clemson and Georgia Tech puts the icing on the cake.
Clemson moves up two spots on a mixed week. The Tigers lost to North Carolina but turned around and defeated Notre Dame. The downside is the loss of Donte Grantham. The senior suffered an ACL injury against the Irish. Grantham's 14.2 ppg and 6.9 rpg will be sorely missed when the Tigers face off with Virginia.
Miami gets knocked out of the Top 25 this week following losses to Clemson and Duke. A win over NC State wasn't enough to bolster the team in the poll. The Canes join Louisville and Florida State in the Receiving Votes category.
---
Cavaliers Still Tops, Tar Heels Got Game
---
AP Top 25
#2     Virginia –
#4     Duke

Up 1

#10   North Carolina

Up 5

#18   Clemson

Up 2

RV    Miami (#26)
          Louisville (#27)
          Florida State (#33)
Pomeroy Ratings (January 22, 2018) *On a regular basis we'll begin posting ACC teams in the Top 68 to provide a feel for who has a shot at the NCAA's. 
#3     Virginia
#4     Duke
#8     North Carolina
#13   Clemson
#24   Florida State
#28   Miami
#31   Notre Dame
#34   Louisville
#49   Syracuse
#54   Virginia Tech
#68   NC State
---
Cavaliers Still Tops, Tar Heels Got Game
---
When it comes to big games on the ACC schedule this week, Virginia is in the spotlight twice.
Tuesday, January 23
Clemson @ Virginia   RSN
Wednesday, January 24
Louisville @ Miami   ESPN2
Saturday, January 27
Virginia @ Duke   CBS Sports
Miami @ Florida State   ACC Network