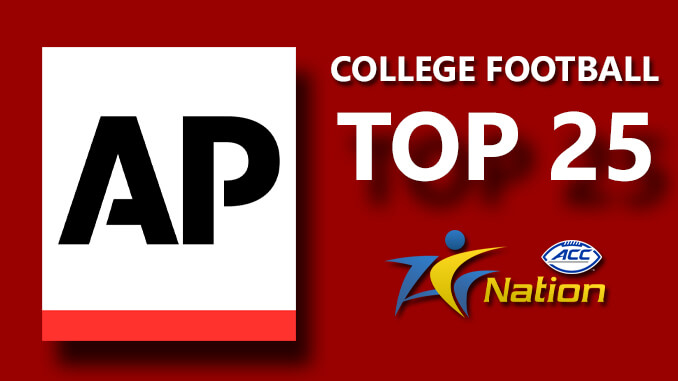 AP Top 25
College Football Rankings
The ACC is down to 4 teams in week five of the AP Top 25. Rising from the RV category, Notre Dame re-enters the rankings after a brief visit in week two.
The most significant movement among conference teams hits Florida State hard after a loss this weekend to NC State. The Seminoles has a Preseason rank of #3 and dropped after their opening loss to #1 Alabama to #10 in week two of the poll. The team slipped to #12 after a two week weather induced hiatus.
Clemson holds onto the top spot among ACC teams. The Tigers slip in the number of first places votes received dropping from 15 to 8 among voters. Oklahoma continues with one vote while Alabama picks up the extra votes to lock in at #1 with 52 votes.
Virginia Tech moves up one spot this week keeping the Hokies among the top 15 teams in the nation.
Miami returned to action after 21 days to fight off Toledo for a win. The Hurricanes hold the same position as last week in the top 15.
Louisville coming off a tough loss to Clemson followed up with a decisive win over Kent State. The win moved the Cardinals up two notches.
Notre Dame knocked off Michigan State and re-instilled confidence in the Irish among the voters. Last week the team was in the RV category at #30. Notre Dame makes a dramatic leap of eight spots in the rankings.
Four conference teams are in the RV category this week and include; NC State, Duke, Florida State and Wake Forest.
---
AP Top 25 – The ACC & Notre Dame
---
#2     Clemson
#12    Virginia Tech
#14    Miami
#17    Louisville
#22    Notre Dame
RV     NC State (#26)
           Duke (#27)
           Florida State (#29)
           Wake Forest (#40)
---
AP Top 25 – The Poll
---
This week's ranked versus ranked teams includes; #2 Clemson at #12 Virginia Tech. In other action involving ranked teams; #14 Miami at Duke.
Games to keep an eye on this week include the aforementioned plus North Carolina at Georgia Tech, Syracuse at NC State and Florida State at Wake Forest.
A strong performance by Georgia Tech should move the Yellow Jackets into the RV category. A convincing win by the Wolfpack over Syracuse, who gave LSU a good run for their money, should push NC State into the Top 25.
Now that the rust is off the Seminoles, a strong showing against Wake Forest would make them good candidates for a return to the Top 25. Should the Demon Deacons stop a dominant Florida State then they should, at a minimum, be considered a top RV or bottom Top 25 team.
---
AP Top 25 – The Rewind
---