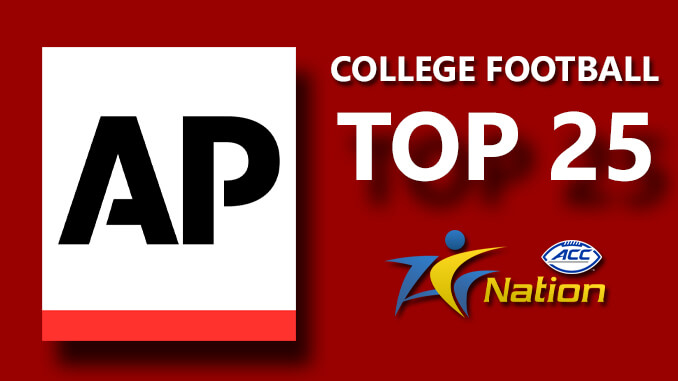 Winning isn't everything unless of course you're rolling over opponents with ease. That's the case this week in the AP Top 25.
The first team on our list is ACC front runner Clemson. The Tigers had a very slow offensive start this weekend. At the same time teams around them hit their third week stride and performed like voters expect of championship teams.
Notre Dame has and has not shown the makings of a top 10 team. This week's milquetoast performance was enough to keep them ensconced in the same spot as last week.
Another team with a less than stellar finish this weekend is Miami. The Canes maintain their spot in the poll.
Virginia Tech didn't play but have enough cache to maintain their position this week. The Hokies will have to come out on fire next week to catch the attention of voters.
The (not-so-much-of-a) surprise team this week is Boston College. The Eagles came away with a well earned win against a very promising Wake Forest. Things are beginning to click for Steve Addazio.
AP Top 25
| RANK | TEAM |
| --- | --- |
| #3 | |
| #8 | |
| #13 | |
| #21 | |
| #23 | |
| RV #28 | |
| RV #34 | |
| RV #42 | |
Who Moved And How Much?
Clemson is surrounded by teams in the top 5 that are nothing short of machines. Perhaps in the grand scheme of things the AP Top 25 no longer carries the same weight as it once did. But as always the saying, perception is reality comes into play. Anyone worth their salt doesn't brush these rankings away. It's an observation of performance plus all the other behind the scenes items that impact a team.
The Tigers dropping one notch in the poll may not seem like that big a deal to most but we look at it as a red flag. Head to head with other teams in the top tier the faith of voters in Clemson is beginning to wane. For all the fans bemoaning these notes and the drop in the rankings it really comes down to this. The team needs to (in a large fashion) prove they belong in the top 5. They've got some serious competition up there in the stratosphere and there's only so much oxygen to go around.
This week we could take the preceding paragraphs and simply plug in Notre Dame and Miami. By the third game of any season a team needs to be clicking. The Irish and Canes had some incredible moments that showed promise. The fact that neither team could deliver solidly for 4 quarters and came away with nominal wins is, once again, a red flag.
We said it in an earlier post on the AP Top 25 that Boston College should be nudging their way into the poll. The Eagles earned their way in with a win over Wake Forest.
Tip of the hat to the Demon Deacons who also look like a team to be dealt with this year.
That Next Level
Duke has lost some critical pieces in their arsenal and guess what? David Cutcliffe has quietly been building depth and the ability to deliver "next man up" college football. The big challenge is two weeks away as they meet Virginia Tech.
The Wolfpack get lost in the shuffle with the loss of a game this week due to weather. The matchup with West Virginia certainly would have been a proving ground. Is NC State salty enough to pull off a win against a ranked team and earn a spot among the Top 25? We'll have to wait a few weeks to find out.
Syracuse rolls into the receiving votes category this week and though there were only two votes they were well earned. The Orange haven't proven themselves to be worthy of the main stage at this point but they opened some eyes with a decisive win over Florida State.
Click here for week three of the AP Top 25.