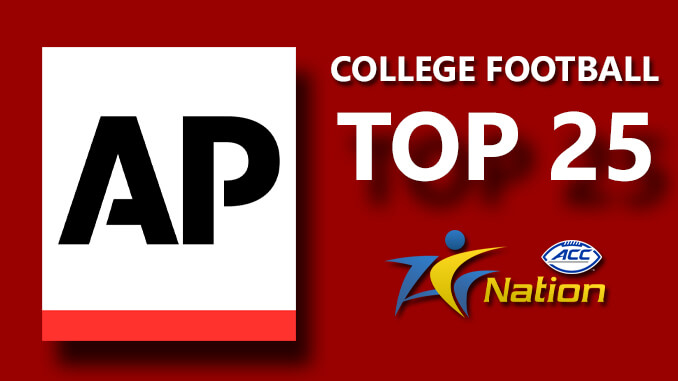 AP Top 25
College Football Rankings
The ACC slips to four teams in week seven of the AP Top 25. The top spot among conference teams still belongs to Clemson who holds steady in the rankings.
This week's list includes; Miami, Virginia Tech and NC State who all move up, as does Notre Dame.
The Irish move up five spots from last week, the Wolfpack four positions, Hurricanes two and the Hokies gain one notch in the rankings.
Clemson grabs 18 First Place Votes in the poll and still haven't sold the voters on being "that team".
Two teams on the outside looking in this week are Georgia Tech and Louisville in the RV category.
---
AP Top 25 – The ACC & Notre Dame
---
#2     Clemson
#11    Miami
#15    Virginia Tech
#16    Notre Dame
#20    NC State
RV      Georgia Tech(#26)
            Louisville(#28)
---
---
Ranked teams from the ACC on the schedule this week finds #2 Clemson at Syracuse, #20 NC State at Pitt and Georgia Tech travels to #11 Miami.
The game to watch this week will be between Georgia Tech and Miami. The Hurricanes will find a challenge in shutting down the Yellow Jackets option.
A win will help push both teams further up the ladder in the AP Top 25. A loss for Miami or Georgia Tech puts them into a dog fight with Virginia Tech for any hopes of clinching a divisional title.