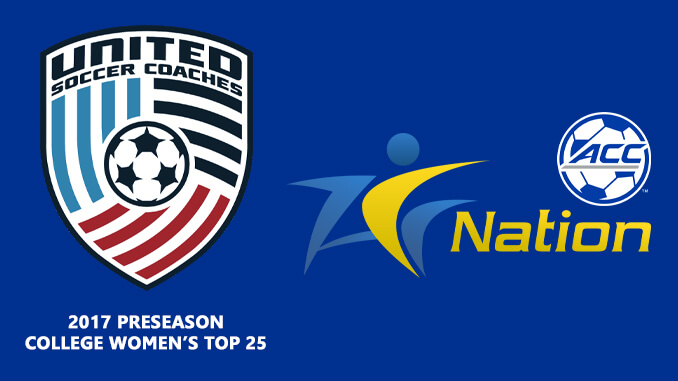 ACC Women's Soccer Scores Six
Another Postseason Run In the Making?
ACC Women's Soccer scores six spots in the United Soccer Coaches Preseason Top 25. The conference has a solid slate of teams primed to take another run at post season action once again this season.
Among those teams, North Carolina. The Tar Heels made it to the semifinals in 2016 and one look at returning play makers on their roster indicates a likelihood they will again this season.
On top of the 2017 preseason rankings is West Virginia.  With their national championship run in 2016 the Mountaineers made a strong run for the title in post season action. The depth of their roster entertains the thought fans will see another shot at a title this year.
---
ACC Women's Soccer Scores Six – The Rankings
---
Six teams lock down the middle of the preseason poll with one in the top 10 and five in the top 20.
There was a bit of a rebuild last year among teams. The amount of experience and talent on the rosters of all six preseason ranked teams is impressive. Here's a look at the ACC teams in the United Soccer Coaches poll. (Highlighted for team link).
---
ACC Women's Soccer Scores Six – Names To Know
---
Early games and exhibitions get underway in less than a week for ACC Women's Soccer. Early action for ranked teams includes an exhibition Tuesday, August 8 as Clemson hosts Air Force.
Keep up with ACC Soccer action on the ACC Nation Podcast. Catch up on previous episodes and be sure to subscribe so you'll get updates automatically.
Find out where ACC Men's Soccer teams rank this season with this look at the United Soccer Coaches 2017 Preseason Top 25.